Quick Facts
Saw palmetto is known as THE ultimate natural DHT blocker. Based on our finding, it's a weaker version of finasteride - the FDA approved hair regrowth treatment. While saw palmetto helps with stimulating new growth, it appears to be more effective for preventing hair loss.
Benefits
✓ Blocks DHT
✓ Prevents hair loss
✓ Stimulates hair regrowth
Growth Recipe?
Yes (See Below)
"Saw palmetto = hair loss reversal"
At least, this looks like the general consensus along with rosemary oil in hair loss communities.
People think of saw palmetto as the most powerful natural DHT blocker. Some even say it's better than Finasteride.
Yes, saw palmetto does block DHT, but is it better than Finasteride, the FDA approved DHT blocker?
Also, can you just buy whatever saw palmetto extract online and expect a miraculous hair growth result?
This article will go over these important questions (and answers) with some interesting studies.
Towards the end of the article, you will discover how to find the right saw palmetto extract to maximize results as well as hair growth recipes based on some of the studies.
Let's start with a brief introduction: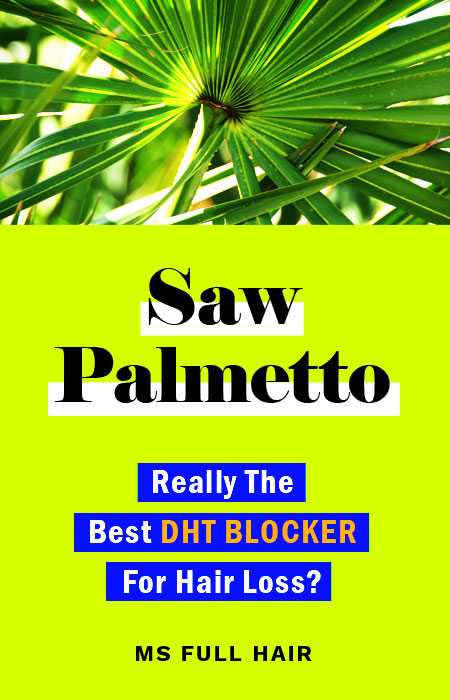 What is saw palmetto?
Saw palmetto (also known as serenoa repens or sabal serrulata) is a type of palm tree native to the southeastern United States.
What makes saw palmetto medicinally beneficial are its large and dark-colored berries, which are mainly used for treating an enlarged prostate (BPH) and thinning hair condition.
Saw palmetto benefits (other than hair loss)
I will not go into detail, but here is a list of saw palmetto benefits just to give you an idea:
Treating benign prostatic hyperplasia (BPH)
Preventing hair loss → The main focus of this article
Improving urinary tract symptoms
Decreasing inflammation
Relieving constipation (Some say constipation is also a side effect of saw palmetto)
How does saw palmetto work for hair loss?
In order to find out the saw palmetto hair loss connection, we first need to talk about DHT.
What is DHT?
DHT is a converted version of testosterone (male hormone), caused by an enzyme called 5a reductase.
To use a simple analogy, think of testosterone as a sunflower seed, 5a reductase enzyme as water, and DHT as a sunflower.
In order for the seed to grow into a sunflower, water is an essential element.
In the same sense, testosterone can't metabolize into DHT without a 5a reductase enzyme.
And, as you know, high levels of DHT are known to cause pattern hair loss in both men and women. So in order to reduce the DHT production, we need a way to decrease 5a reductase enzyme.
That's where Finasteride or saw palmetto come into the picture.
Finasteride, also known as Propecia or Proscar (brand names), is a FDA approved medication that blocks DHT by inhibiting 5a reductase enzymes. While its efficacy has been proven through multiple studies, it has one big drawback: an undesirable side effect.
Sexual dysfunction (erectile dysfunction and a loss of libido) in men is the most well-known side effect that you frequently hear from people. Some reports say it's irreversible.
The natural question is, are there any other alternatives that block DHT with minimal side effects?
As you may have guessed, this is why saw palmetto is so popular among hair loss sufferers.
Using saw palmetto for hair growth
Saw palmetto is referred to as a natural DHT blocker or a Finasteride alternative.
This natural plant is also believed to inhibit 5a reductase enzymes, thus blocking the formation of DHT hormones.
But how effective is it for stimulating hair growth? And does it really have no side effects?
Fortunately, there are multiple studies on saw palmetto for hair loss.
Studies on saw palmetto for hair loss
I found a handful of saw palmetto hair loss study cases.
Warning: This section is going to be long.
If you don't want to read them all, skip to study #2 (supplemental form) and #5 (topical form), which I believe are the two most important.
Study #1

 Using saw palmetto for androgenic alopecia
A 2002 study (1) investigated if saw palmetto can be an effective treatment for pattern hair loss, also known as androgenic alopecia (AGA).
Total 26 male participants with AGA were randomly divided into two groups (19 subjects completed the study):
Group 1: Softgel with saw palmetto (200mg) → 10 participants
Group 2: Placebo softgel → 9 participants
The duration was about 21 weeks on average (18 to 24.7 weeks to be specific).
The result?
60% of the group 1 participants (saw palmetto) experienced hair regrowth, while only 10% in the placebo group.
Before you think this is the desirable saw palmetto hair regrowth dosage, there is one caveat:
The softgel given to the first (active) group didn't just have saw palmetto alone.
It also included 50mg of beta sitosterol, another ingredient known as 5AR inhibitor and other compounds to increase bioavailability during the absorption.
Here is a list of ingredients of the saw palmetto supplement used in the experiment:
200mg Saw palmetto
50mg Beta sitosterol
50mg Lecithin
100mg Inositol
25mg Phosphatidylcholine
15mg Niacin
100mcg Biotin
This means that you can't contribute the hair growth result solely to saw palmetto for obvious reasons. Plus, there were only 19 participants.
Then, is there a study that used saw palmetto as a mono hair growth treatment and preferably with a much larger participant base?
Let's look at the next study.
Takeaway
Taking saw palmetto as a supplement can assist with hair regrowth when combined with other ingredients.
Study #2

Finasteride vs Saw Palmetto
A team of researchers performed a 2-year study to find out the efficacy of using saw palmetto for hair loss and how it's comparable to finasteride (2).
100 male participants with androgenic alopecia were randomly divided into two groups:
Group 1: Finasteride (1mg/day)
Group 2: Saw Palmetto (320mg/day)
Both groups were instructed to take the assigned treatments daily for 24 months.
The result?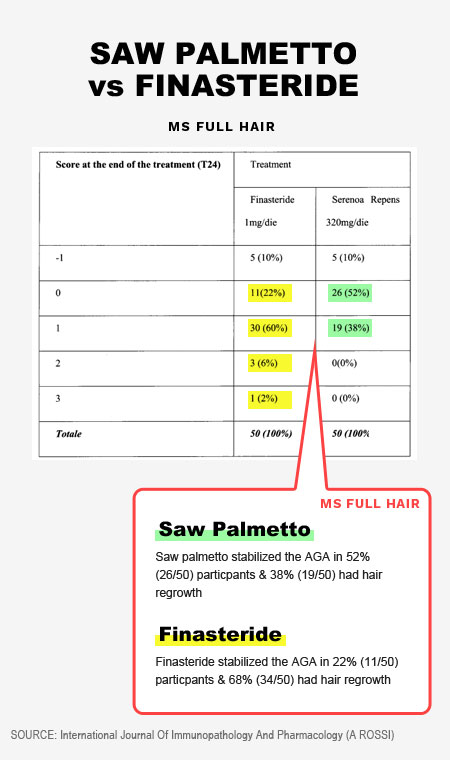 68% of the participants (33 out of 50) from the finasteride group showed hair growth improvement, which is great.
What about the saw palmetto group? 38%
Discouraging? Not just yet.
As you know, finasteride is an FDA approved hair loss drug (as well as minoxidil also known as Rogaine), so there is no surprise to see a great result like this.
For saw palmetto, while only 38% of the saw palmetto participants experienced hair regrowth, about half of the participants (52%) saw stabilization of further hair loss.
Out of 50 saw palmetto participants, 19 people (38%) saw improvement on hair growth and 26 people (52%) had no further hair loss during the two-year period.
In other words, saw palmetto can regrow hair to a certain extent, but is likely to be more effective for the use of hair loss prevention.
In addition, the researchers discovered a couple of other interesting findings:
Saw palmetto only worked for hair loss occurring in the vertex region, while finasteride was effective for all areas of the scalp wherever thinning occurred.
Also, both finasteride and saw palmetto worked most effectively for those who are in the early stage of hair loss (specifically, Hamilton classification scale II and III).
Unfortunately, there are no saw palmetto hair loss before and after photos included in the study. This is somewhat weird, because the researchers state that photos of each participant were taken every month until the end of experiments.
Taking a rosemary oil for hair growth study as an example (which also had the same number of participants completed in a well-controlled setting), before and after photos from each group were shared in the paper, regardless of not so impressive results.
Takeaway
Saw palmetto can be more effective for preventing hair loss rather than stimulating new hair growth, especially in the vertex area. Also, the earlier the stage of hair loss, the more effective it appears to be.
Study #3

Topical application of saw palmetto for hair growth
A 2016 study (3) reports hair growth after using a topical product that contains a saw palmetto extract.
A total of 50 men with pattern hair loss were involved in the experiment and were instructed to apply a topical solution with saw palmetto in it for 24 weeks.
Here are saw palmetto before and after photos from the study: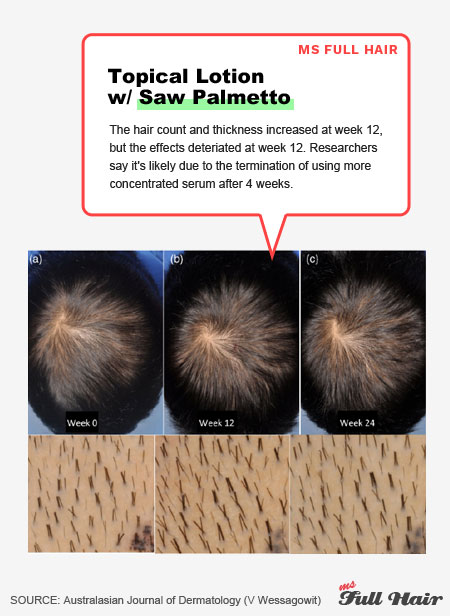 Can't see much difference?
Here is the detail about the result:
At week 12 (the midpoint of the experiment): The increases of hair count and hair thickness were observed.
From week 12 to week 24 though: Hair count stayed the same, while the overall hair thickness decreased.
The researchers report that the discontinuation of the hair growth improvement is likely to be from the switch of the topical solution from a serum (more concentrated) to a lotion (less concentrated) at week 4. Thus, they recommended to continue using the concentrated version instead.
So what was included in this topical formula?
Saw palmetto
Green tea extract
Peony root extract
Piroctone olamine
Oligopeptides
Unfortunately, they didn't mention anything about how much of each ingredient is included in the topical treatment nor the desirable concentration for effectiveness.
All I can guess is that saw palmetto is likely to be the main ingredient (as it's the primary focus of this study).
Towards the end of the article, we will provide a saw palmetto hair growth recipe based on an educated guess with multiple studies combined.
Takeaway
Saw palmetto combined with green tea extract, peony root extracts, and piroctone olamine can help with hair growth stimulation. We just don't know how concentrated it needs to be.
Study #4

Another saw palmetto topical application study
A total of 25 male participants were included in the study (4) and were topically treated with saw palmetto and 10% trichogen veg complex (TVK) as a form of hair lotion for 4 months.
The result?
There was an 11.9% increase in hair count and hair regrowth improvement was seen in 48% of the participants via visual inspection.
Before we go further, we need to discuss something: How much of saw palmetto extract do you think was included in the lotion?
0.6%…
To be specific, the researchers used a topical hair loss treatment called Prozinc spray, a combination of 0.6% of saw palmetto and 10% Trichogen veg complex.
Think about this.
If your hair grew using this, which ingredient would you attribute the success to? Saw palmetto or Trichogen? 0.6% vs 10%?
What's Trichogen complex?
Trichogen (TVC) is a trademarked hair growth blend made of multiple botanical and synthetic components.
The blend contains the following: Panax ginseng room extract, arginine, acetyl tyrosine, arctium majus root extract, hydrolyzed soy protein, calcium pantothenate, zinc gluconate, niacinamide, ornithine HCl, citrulline, glucosamine HCl, and biotin.
After a quick google search, I found out that the company who developed Trichogen also performed a clinical trial for its anti-hair loss effect and had decent results.
Finally, considering the topical lotion used in the study only had 0.6% saw palmetto in the formula, I think most can agree that the growth result is more likely to be from Trichogen (10%).
If you are a DIY type to make your hair growth mix, it would be a lot more efficient to buy a product that contains this blend and possibly add more saw palmetto in it.
If you look at Amazon, there are multiple products available containing Trichogen. For instance, this serum states that it contains 8% Trichogen.
Takeaway
It's not clear how significantly saw palmetto contributed to hair growth here either, as another hair growth blend was included in the topical formula.
Before you think all of the topical saw palmetto hair loss studies are flawed, read the next one:
Study #5

The true effectiveness of using topical saw palmetto for hair loss
This study from 1998 evaluated the efficacy of saw palmetto and cystine for hair growth.
There were total 60 participants with pattern hair loss (both men and women) and divided into five groups:
Group 1: Topical lotion – Saw palmetto
Group 2: Topical lotion – Placebo
Group 3: Supplement – Gelatin-cystine
Group 4: Supplement – Placebo
Group 5: Topical lotion (Saw palmetto) + Supplement (Gelatine cystine)
The dietary supplement in the active group contained soy oil and gelatin, l-cistine, l-methionin, Cu, and Zn, while it was only soy oil and starch for the placebo group.
For topical treatments, both active and placebo groups contained hydrolyzed soy protein, panthenol, ginkgo biloba extract, azelaic acid, and piroctone alamine.
The main difference was the existence of saw palmetto extract between active and placebo groups.
The study lasted 50 weeks.
Now, the result – let's start with this graph: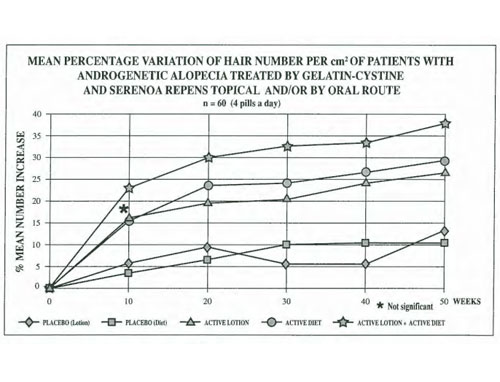 This graph basically indicates that active groups (whether topical or supplemental) had better hair regrowth results than the placebo groups.
Also, it shows that the topical + supplemental combo works better for hair growth than using one of them alone.
Here, we will focus on the topical application groups: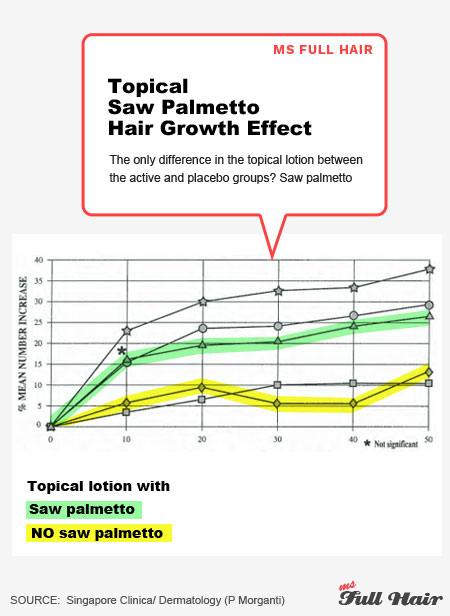 Both active and placebo groups saw a gradual increase in hair count, but the active group outperformed the placebo group.
If you remember, both active and placebo topical groups applied a topical lotion that contains some decent hair growth ingredients such as ginkgo biloba extract, panthenol and azelaic acid.
The only difference is that the topical formulation assigned to the active group contained a saw palmetto extract.
In other words, the saw palmetto extract indeed was a contributor to stimulating more hair regrowth via topical application.
Takeaway
A topical application of saw palmetto stimulates new hair growth.
Study #6

Testing saw palmetto's DHT blocking activity other than people
A team of Chinese researchers (6) tested DHT blocking effects of saw palmetto extract on both vitro and mouse models.
For the vitro experiment, human keratinocyte cells were used.
These cultured cells were initially treated with DHT, then the saw palmetto extract was added to some of these cells for comparison.
Via MTT assay, researchers confirmed that the cells treated with saw palmetto extract had significantly increased viabilities than DHT only treated cells.
The mouse model also resulted in the similar outcome with the increase in both hair density and thickness when treated with the saw palmetto extract.
Takeaway
Saw palmetto extract effectively halters DHT activities in both cultured cell and mouse models
Summarizing all studies together:
Based on the above studies, we can see that saw palmetto is not as powerful of a DHT blocker as finasteride, but may still be beneficial for preventing further hair loss when taken in supplemental form.
Also, the topical application of saw palmetto appears to help with promoting hair regrowth.
Finally, whether it's supplemental or topical form, saw palmetto seems to be more effective when combined with other hair growth promoting ingredients.
This is not the end yet.
It turns out when it comes to saw palmetto extract, the quality really matters.
Does an extraction method matter for saw palmetto?
Yes.
Multiple saw palmetto related studies make a clear point that various results (from very effective to no benefit at all) seem to occur due to different types of the extracts being used.
Interestingly, this claim appears to be true, as I also noticed in the type of saw palmetto extract used varies based on each study.
As researchers are aware of this problem, some of them actually performed an comparison analysis to test out the potency of different saw palmetto brands.
For instance, a 2015 Italian study (7) compared 14 brands for its 5a reductase inhibiting effects.
The good news?
It turns out ALL extracts were able to inhibit 5a reductase enzymes.
BUT, there was a noticeable difference when it comes to the potency profile (=containing more active ingredients). The more potent the saw palmetto extract was, the more effectively it inhibited 5AR enzymes.
In case you are curious about which saw palmetto brand ranked as the best, refer to this list: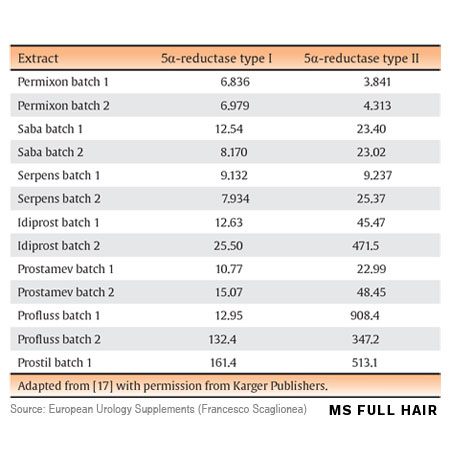 You probably don't recognize many of them, as these are mostly European brands; however, here are a couple of takeaways for choosing the best saw palmetto for hair loss:
Saw palmetto extract with n-hexane extraction is the most well researched
Permixon, which ranked the highest from the above list, is a lipidosterolic-based saw palmetto extract by a n-hexane extraction method.
The researcher states the following:
"In the case of Serenoa repens (saw palmetto), the n-hexane lipidosterolic extract is the only formulation currently considered by the European Medicines Agency to be a "well-established medical use product.""
He also notes that "Permixon" (the n-hexane extract) was the most potent 5a reductase inhibitor.
Again, this does NOT mean that saw palmetto extracts without the n-hexane method are useless.
As mentioned above, all extracts express some degrees of 5a reductase inhibitory effects. It's just that Permixon, the epitome of the hexanic extract, is more potent than other brands and used the most in various clinical trials.
Another extraction method you also want to keep a close eye on is saw palmetto extract through the supercritical CO2 extraction process.
Saw palmetto with CO2 extraction (The newcomer)
CO2 extraction is a newcomer perceived as a superior way in the botanical extraction world.
The main advantage of CO2 extraction is its ability of extracting higher yields of bioactive compounds without any chemical residues.
According to a 2016 study (8), CO2 extracted saw palmetto (they used a brand called "Prosterol") effectively inhibited 5a reductase and the result was comparably good as the hexane extract version used in many clinical studies.
In addition, the amount of saw palmetto CO2 extract required for 5a reductase inhibition was much lower compared to saw palmetto using other extraction methods.
One thing to mention here though: this study was funded by Euromed, a company that makes Prosterol.
While I don't think the authors would lie about the results, it also makes me question some… things…
So does this mean that you should just ignore the CO2 extraction, as the funded study is always likely to have a hidden motive?
Read the next section.
What's the best saw palmetto for hair loss (based on studies)?
The above list was NOT VERY helpful, because you can't easily buy any of those brands in the US.
For instance, you can't just go and buy Permixon, the best rated saw palmetto extract, as this is a pharmaceutical drug for treating BPH in Europe.
Luckily, a 2013 study (9) provided a list of decent saw palmetto brands that you can actually buy.
This list includes 20 different brands and is ranked by the amount of free fatty acids and phytosterols.
To give you a one sentence summary on how to choose the best saw palmetto extract, just remember this:
For saw palmetto: liquid > extract powders > powders and skip tinctures.
The researchers discovered that the liquid saw palmetto extracts generally have the highest levels of fatty acids and phytosterols.
So why do fatty acids matter?
According to a 2002 study (10), various free fatty acids in saw palmetto contribute to the inhibition of 5 alpha reductase activities.
This means that you will want to buy saw palmetto extract containing a high amount of fatty acids and also B-sitosterol, as it's another ingredient known for blocking DHT.
Based on the above findings, I will give you a quick buying guide:
Our Pick
This saw palmetto supplement is made with the CO2 extraction method - one of the most ideal ways of preserving its active ingredients potent without any chemical residues.
Best saw palmetto supplement for hair loss:
Buy Doctor's Best for the highest amount of fatty acids (liquid)
Buy Jarrow Formulas (liquid) or Biochem (powder) for the high B-sitosterol amount
Interestingly, Doctor's Best uses a saw palmetto extract from Euromed.
If you remember from the above section, it's the company that funded the study on the CO2 saw palmetto extract.
So, it turns out the result of the study wasn't favorably skewed after all.
Quick Q&A on saw palmetto and hair loss
What's the saw palmetto dosage for hair loss treatment?
According to the saw palmetto vs finasteride study, the saw palmetto recommended dosage for hair regrowth is 320mg (daily dose).
How long does it take for saw palmetto to work for hair loss?
General recommendation for any hair loss treatments is 3~4 months. One topical saw palmetto study states that the visible results started at week 12 (3 months).
What about using saw palmetto for hair loss in females?
Theoretically, if you are a woman with androgenic alopecia (pattern hair loss), taking a saw palmetto supplement should be ok, as both male and female pattern hair loss are caused by DHT.
Unfortunately, there is no study on saw palmetto supplements for female hair loss as far as I know. So, it would be better to stick to a topical saw palmetto treatment (see the recipe below)
Saw palmetto side effects
Saw palmetto is likely to be safe. One of the frequently reported minor side effects includes stomach discomfort when taken as a supplement.
It's NOT recommended to take saw palmetto if you are pregnant and breast-feeding, as it can affect hormones.
Saw palmetto hair growth recipes
Here, we will give you two recipes: one with a supplemental route and the other with a topical treatment.
Supplements – The recommended saw palmetto dosage for hair loss:
Supplemental

saw palmetto for hair regrowth recipe
This recipe is pretty straightforward, as it provides the same direction used in the finasteride vs saw palmetto study.
To give you a quick summary about the study, 38% of the participants in the saw palmetto group hair regrowth and 52% experienced no further hair loss in 2 year study.
Ingredients:
Directions:
In order to see the result, take the supplement at least for 4 months.
Topical

saw palmetto for hair loss recipe
This topical saw palmetto hair regrowth recipe is recreated based on the above and other hair related studies:
Ingredients:
Coconut oil
Saw palmetto extract
Ginkgo biloba extract
Green tea extract
β-sitosterol
Directions:
Microwave or leave coconut oil at room temperature until it becomes liquid
Add saw palmetto, ginkgo biloba and green tea extracts to coconut oil
(Optional) Add essential oils such as rosemary and lavender.
Mix them together
Apply it to the scalp at night
Wash it in the morning
Do it 5 times a week for at least 3+ months to see hair growth results.
Final Takeaway
Can saw palmetto stop hair loss?
Based on multiple studies, we can make the following conclusion: Saw palmetto is not a hair loss cure all solution.
It's a weaker version of finasteride for blocking DHT, but still a beneficial one.
All of the saw palmetto extracts block 5a reductase enzymes regardless of the extraction methods, but the n-hexane extract and CO2 extraction appear to show higher potency.
If you are not comfortable taking saw palmetto as a supplement, try to use it as a topical treatment, as it helps prevent further hair loss and increases the effectiveness of hair regrowth to some extent according to studies.
Have you tried saw palmetto for hair loss? Share your experience below!