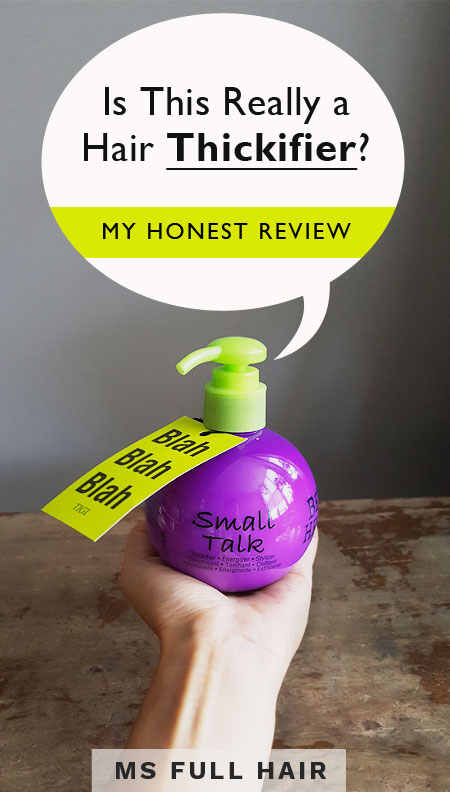 When you have a thin and fine hair type, hair thickening products are daily essentials for that desperately needed volume.
In this review, you will find out how WELL Tigi Bed Head Small Talk Thickfier works when it comes to making your hair thicker and fuller.
If you often ask yourself the question "what can I use to thicken my hair?", you will find this review very useful.
About the company, TIGI Bed Head
TIGI Bed Head is actually owned by Unilever, a mega corporation that owns a lot of beauty and hair care brands you are familiar with – Dove, Tremme, St. Ives, Vaseline.. the list goes on and on.
Originally started by a famous hairdresser, TIGI Bed Head offers various hair care products. Some of brand's all-time best selling products include Curl Amplifier and Massive Shine Hairspray.
About the product, TIGI Bed Head 3 in 1 Small Talk Thickifier
Let's cover some basics first. Here are quick facts about TIGI Bed Head Small Talk 3 in 1 Thickifier cream:
What is this product?
TIGI Bed Head 3 in 1 Small Talk Thickifier is a hair thickening cream that offer 3 benefits in one bottle – thickening, texturizing (they call it – energizing), and stylizing.
The hair thickening treatment cream is designed to make hair thicker by adding body and volume to limp and lifeless hair.
Ingredients highlights
Bed Head Small Talk hair thickening cream includes jojoba seed oil and sunflower seed extract oil for natural ingredients.
It also includes typical hair product ingredients such as cyclopentasilixane and polyquaternium 37 in which both are used for providing conditioning and anti-static agents.
Texture
It has somewhat slightly thick and gluey texture.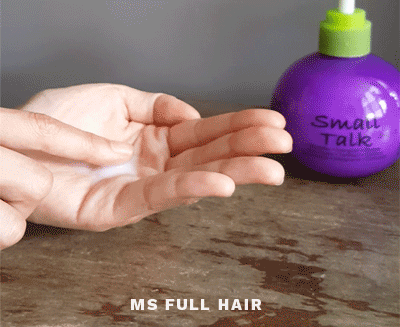 Affordable
Tigi Small Talk is currently priced around $10 which is amazingly affordable compared to other hair thickening treatment creams or serums in the market.
For instance, this thickening serum is really popular with raving reviews, but it costs over $55!
MANY reviews with 4.5 stars
At a quick glance, looking at the number of reviews combined with the rating, TIGI Bed Head Small Talk Thickifier volumizing cream appears to work very well among actual users. It has over hundreds of reviews with 4.5 stars on Amazon right now (Read all reviews here).
Below, you will read more detail about pros and cons as well as our review.
Pros and cons
So, we read ALL of the reviews to save you some time. Also, we were curious about what made this hair thickening cream so popular.
Here is a summarized list of pros and cons. These are the points consistently mentioned / talked about throughout handful of reviews:
Pros
After going through reviews, we noticed quite a number of people are happy to settle down with TIGI Bed Head Small Talk Thickifier after trying a bunch of other hair thickening products.
Reviewers agree that this volumizing cream definitely adds body and bounciness to thin and lifeless hair without making it look like you applied a bunch of products. People who seem to benefit the most are definitely the ones with fine hair strands.
There were also a number of reviewers who used it for controlling frizz as well as adding volume, in which they also seem to have good success with.
People's final choice who have tried a bunch of other thickening products
Add bouncy body
Make your hair thicker fast
Add more volume and texture
Great for limp hair
Great for fine and thin hair
Good for hair that gets oily easily
Accentuates curls without adding frizzy
Not weight it down
Last all day – often until next washing
Lightweight
No sticky residue or flaking (if you feel it makes your hair feel sticky, you probably have used it too much)
Pleasant scent (some disagree though)
Cons
Interestingly, one of the complaints was the overpowering scent.
Tigi Bed Head 3 in 1 thickener has a very sweet and fruity scent – some people love it while others didn't like it at all.
The good news though: the fragrance dissipates pretty quickly. So if you are one of those who are not so fond of its scent, you may be ok.
There are also some reviewers mentioning that Bed Head Small Talk thickening cream makes their hair feel sticky (or a straw-like gel).
The key here is to use the right amount to give the volume. For instance, if you use it too much, it will leave a stickiness to hair strands. If you use too little, you won't get the full thickening benefit.
Read "how to use" below to find out the right amount for detail.
Has strong fruity scent
Makes hair sticky (Read below on "how to use" in order to prevent this)
Makes hair dry
Makes hair greasy? (Was interesting to read some say it makes their hair dry, while others felt the opposite)
Some prefer Tigi Bed Head Motor Mouth Mega Volumizer instead (a product from the same company)
Ms Full Hair Review / Experience
First, let's start with positives:
This hair thickener actually works, especially for thinning hair. If you are looking for quick ways to thicken hair, this cream will provide that convenience (even though it's not a permanent solution).
You can easily tell the thickening effect by trying this simple method: Apply the cream one day right after shampooing your hair in the morning. Next day, use the same shampoo, but do not apply anything this time.
You will definitely feel the difference by either touching your hair or just simply looking at the mirror.
For instance, whenever I apply TIGI hair thickener on my hair, it feels like the cream adds some kind of extra grip or texture to each strand which lasts all day long.
I also noticed this thickener lasts quite a long time. When I touch my hair the following day, I still feel the added texture combing through with my fingers.
One thing I wasn't a big fan is also the scent (similar to other reviewers).
Tigi Bed Head 3 in 1 cream has a strong grape-like fragrance. While some people call it as delicious or pleasant fruity scent, it was way too sweet for my taste and reminded me of a fragrance designed for early teens. BUT to be fair, the smell didn't last long and faded quickly.
How to open this bottle? (The most asked question)
When you first receive the product, you may get confused on how to open it, due to not so intuitive design. You can easily open the bottle by slightly pushing the pump downward, then twisting the pump to the left side. 
4 Useful tips on how to use
How to use Tigi Bed Head Small Talk (for the maximum hair thickening effect):
Unfortunately, there are no instructions written on the bottle on how to properly use this hair thickening product.
On the TIGI official website, you will find the following directions under the product page: "Use 2-3 pumps on wet hair. Blow dry and style as desired"
BUT, actual users including myself have to disagree (unless you are one of those lucky people with a full head of hair).
As I have very thin and fine hair, using 2 to 3 pumps was WAY too much. If you have similar hair type as me, this will end up making your strands feel sticky, thus weighing it down – exactly the opposite of you are trying to achieve.
So how much do you need to use for that perfect thickening effect?
The short answer: A little goes a long way.
Use the following truly tried instruction for the most desirable results.
Tip 1

Half pump will do the job

It may take several tries to find the right amount to add volume on your hair without making it feel sticky.
For me, half pump – about a dime size – was the perfect amount (for shoulder length hair).
I read some reviewers having great results using one full pump, while some say a full pump is too much for them to use.
So try it first by using about the half pump and see how it makes your hair feel and if you see any thickening effects.
Tip 2

Use it on "wet" hair

I noticed using it on a dry hair requires a lot more amount than using it on damp hair.
Tip 3

Brush it through fingers

If you notice your hair feeling stiff after applying the thickening treatment cream, comb it through with your fingers or gently brush your hair using a soft bristle boar brush.

This will break up the stiffness and give you that silky smooth appearance while still providing bounciness.
Tip 4

Blow drying amplifies the full thickening potential

While air drying works great for adding the body to your hair, many reviewers report that blow drying make their hair feel a LOT thicker and fuller.

So if you want to get the maximum hair thickening benefit, use a hair dryer right after applying the thickifier on damp hair.

If you are worried about your hair getting damaged from the heat, use the lower setting from the distance OR consider this alternative solution which provides both thickening and hair repairing benefits.

Finally, here is a summary step by step on how to use Tigi Bed Head Small Talk to thicken hair strands:

Summary: How to use Tigi Small Talk Thickifier Cream
Wash and towel dry your hair.
Squeeze about 1 pump (or a little less) and rub it on your fingers of both hands.
Apply the product starting from the root to the end on damp hair.
You can either let it dry naturally or use a hair dryer (the latter for thicker and fuller volume).
Final Takeaway
Is this the best hair thickener?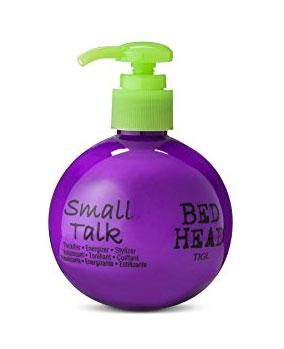 Is Tigi Bed Head Small Talk 3 in 1 Thickifier the best hair thickening product for fine hair? Well, if you are not too picky about the scent, it is definitely a good option to consider.
Based on our experience (as well as hundreds of users), this hair thickening cream delivers what it promises – visibly adding more volume and body to your hair by thickening thin hair strands.
You will like this TIGI hair thickifier:
If you have thin, fine hair
If you want to increase hair thickness fast at home
If you want to add volume and body with minimal effort
If you are looking for no-frill daily hair thickener
Finally, if you have enough time in the morning, try it with a hair dryer to activate the full thickening effect.