You have fine, thin, lifeless, and limp hair. You are on a mission for finding the best ways to add volume to your hair.
Well… This post is the answer for the very first step: The haircut.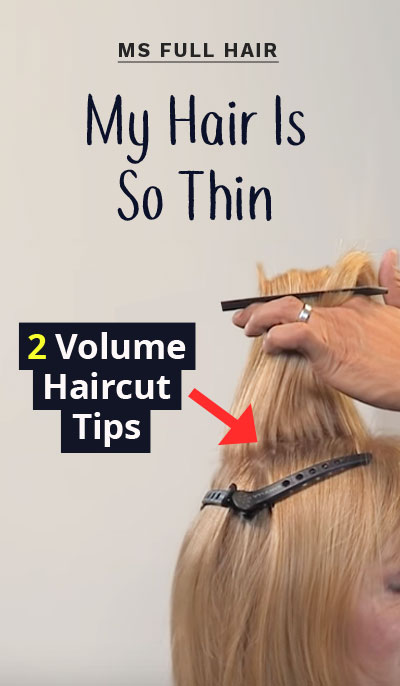 In search of various haircuts perfect for thin hair, we came across a video that demonstrates a specific haircutting technique of adding so much needed volume.
Then, of course, one video led us to another, then another… And we ended up watching over 50+ video tutorials of haircuts for volume and make fuller looking hair.
If your hair stylist is clueless of what to do with your fine, thin hair, make sure to show him / her these videos next time.
Unfortunately, we were only able to find 2 videos that were informative, but each one is actually really good and shares amazing tips and techniques on haircuts that add volume at crown and volume to straight hair.
Volume Haircut Tutorial #1: Haircuts for volume at crown area
The stylist in the video uses what he calls a "diamond technique" to create soft and easily-blending voluminous layers to straight thin hair.
He grabs hair strands on the top and crown area with a diamond shape and isolates the section. Throughout the video, he uses different types of scissors to blend layers while giving extra texture and movement.
He says the Invisiblend shear is a must for creating invisible layers onto your hair.
This tool is especially helpful if you are trying to find out how to cut thin hair at home. Here is another scissor from a different brand, but with the same functionality.
Volume Haircut Tutorial #2: How to layer thin hair correctly
This video is also from the same channel as above.
In this tutorial, a different hairdresser demonstrates haircuts that add volume to straight hair and shows you how to add layers and texture while keeping the density of hair.
THIS SERIES INCLUDES
Best haircuts & hairstyles for fine thin hair