Many women after a certain age experience gradual hair thinning around the frontal and crown areas. This type of female hair loss pattern naturally occurs usually around the age of 40 and 50.
In this post, we will share a number of hairstyles tips to follow to create a stylish look and 50 best photos for your hair inspiration.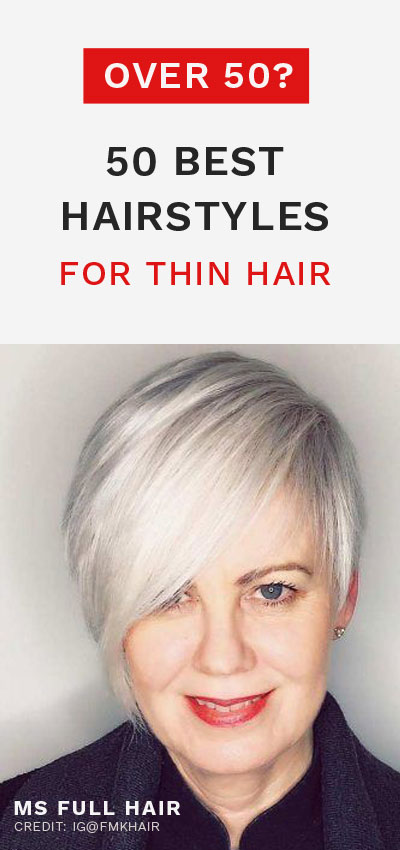 3 Tips on best hairstyles for thin hair over 50 & 60
TIP 1

Go for short to medium length for thin hair

This is especially true if you are suffering from thinning hair.

It's an inevitable fact that the longer your hair, more life-less it looks, regardless of your age.

There are vast number of short to medium length hairstyles that look extremely stylish, which leads us to our next point.
TIP 2

Consider different styles of bobs if you want to look stylish

You know bob hairstyles NEVER go out of style.

A woman who is known for her blunt bob hairstyle throughout her life is Anna Wintour – the chief editor of Vogue magazine. But, as you know, she has tons of thick hairs, so let's not focus on her that much. It's the hairstyle that matters here.

Another woman who is just as stylish as Wintour but with thinner hair is Linda Fargo – the director of Bergdorf Goodman.

She rocks her platinum grey hair.
If you Google her name and check the images, you can easily see she is a fine and thin hair type. What makes her hair look so attractive is the put-together short bob hairstyle, always with a side part.
Other bob hairstyles for older women to consider include the graduated bob and layered bob.
If you are going for shoulder length, try a lob (aka long bob) with soft layers to add movement.
TIP 3

Include a side part

A side part is an easy way to create the illusion of volume.

The deeper the side, more volume it adds. When using side parts, also consider a root lifter for extra fuller looking hair.

Now that we covered the most important hairstyle tips for thin fine hair, let's look at some photos.
50 Stylish hairstyles for older women with fine thin hair over 50
Here are our favorite pictures of hairstyles for fine thin hair over 50:
THIS SERIES INCLUDES
Best haircuts & hairstyles for fine thin hair