You have a long "thin" hair. You want to keep the length and find a way to make your hair look voluminous – and preferably, with minimal effort.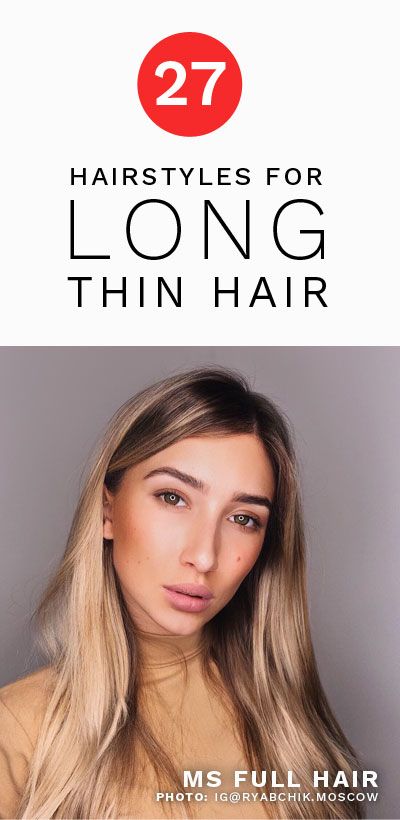 First, here are a number of tips for hairstyles for long thin hair.
If you don't mind the length of hair as long as it provides a fuller thicker look, refer to the following posts: Short hairstyles for thin hair and medium length hairstyles for thin hair.
Skip to see photos for best hairstyles for long thin hair
3 Hairstyle tips to amp up the volume for long thin hair
TIP 1

Layers are your friends

If you are looking for a volume haircut for thin hair, layers can instantly add dimension to flat and lifeless hair.

For a round face: If you have a long hair with a round face, consider face framing layers to give a face slimming effect, while still adding dimension to your hair.

Volume in the crown: A long length can easily add weight to your hair making the crown area extremely flat. If you are suffering from hair loss, it can be even worse by showing your scalp.

The best way to add volume in the crown (other than a thickening cream) is also adding layers.

Sam Villa, Redken education artistic director, calls it a "diamond technique." Basically, you divide the crown area into 4 sections in order to create soft layers throughout the crown (watch the video here for detail).
TIP 2

Consider specific highlighting techniques to add texture and depth

This also applies to short and medium length hair, which we covered in both posts along with photos.

To summarize, you will want to go for natural looking highlights regardless of the shades of your hair.

Consider highlighting techniques such as balayage or even better strandlighting – the latest hair coloring trend that is all over social media right now.

Strandlighting is a modern intricate highlighting technique that combines a traditional foil method, but with a completely different outcome: amazingly natural sun-kissed highlights.

Here is a great video demonstrating of the strandlighting process and how it looks:
View this post on Instagram
TIP 3

Need low maintenance? Try a permanent beach wave perm to amp up the volume

If you want low maintenance, try a permanent beach wave perm (such as digital perm).

Several years ago, Julianne Hough made this beach waved perm extremely popular.

To make the story even better, her hair stylist used Olaplex throughout the perming process to ensure her already blonde breached hair doesn't get much damage.

The result?
View this post on Instagram
Now let's get to photos:
27 Beautiful hairstyles for long thin hair
Here are our favorite 27 photos of long hairstyles for women with thin and fine hair.
THIS SERIES INCLUDES
Best haircuts & hairstyles for fine thin hair