In our last thin hairstyles series, we shared 3 important tips for stylish short hairstyles for women with fine hair.
Here, we will cover the best shoulder length hairstyles for fine hair.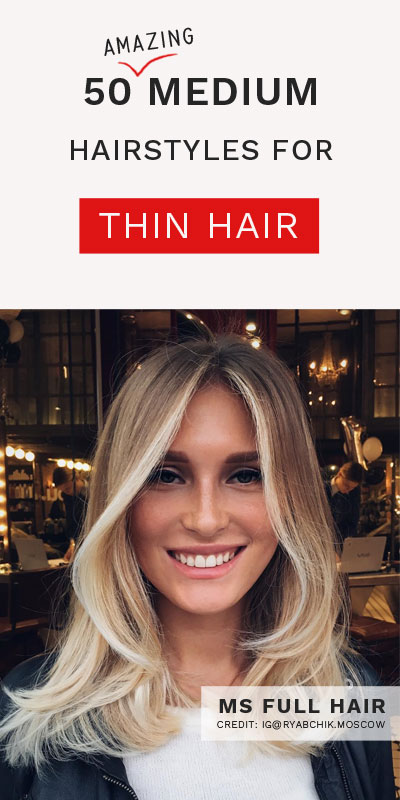 First, let's start with several tips on how to give limp thin hair more life and create a thicker and fuller look for medium lengths.
A couple of tips we discussed in the previous post for short hair also apply for shoulder length as well.
Go straight to see photos for short hairstyles for fine hair
1. Go for subtle highlights to give depth to your hair strands
Balayage, the modern highlighting technique, is what you are looking for here.
Unlike the traditional foil method, Balayage gives your hair a natural sun-kissed look with a gradation / subtle ombre-like effect (leaving the roots your original hair color and naturally fading out as it gets towards the edge of the hair strands).
If you are considering a shoulder length blunt cut or angled lob (Khloe Kardashian made this chic hairstyle popular again), adding highlights is an amazing way to provide both depth and texture for fine hair type.
2. Add layers to amp up the volume
Adding layers to short hair can be tricky, as it can create a choppy and awkward look.
But, if your hair is shoulder length or longer, layers are a must for fine thin hair.
So why layers? When your hair is limp and lifeless, you want a volume haircut for thin hair. And one of the fastest ways to achieve this is to introduce layers. It creates movement, depth and multi-dimensions to otherwise flat strands.
3. It's time for a "beach wave" perm
Also, known as a digital perm, this specific perming technique gives you natural (and right on trend) loose curls onto your hair strands. It also creates that Parisian effortless chic with a little bit of messy finish (rather than the overly done look).
If you are a busy girl with not much time for a curling wand every morning, a digital perm can be a life saver for you to look stylish with almost no effort (other than washing your hair).
Now, time for photos:
50 Best medium shoulder length hairstyles for fine hair
Here are 50 popular medium length hairstyles and shoulder length haircuts to try if you have thin fine hair. Most girls here use one (or more) of the tips we just mentioned above.
SERIES: Best haircuts & hairstyles for fine thin hair