Dermaroller, also known as a Microneedle roller, has been a popular little product for various beauty routines from removing stretch marks, cellulite and acne scars, to fighting wrinkles on the face.
But did you know people are also using the microneedle roller for hair growth and to reduce hair loss?
In this article, we will cover some of the research on derma rollers in relation to hair loss and give you tips on how you can use the derma roller for stimulating hair growth (Hint: the result looks very promising!)
Derma roller reviews for hair regrowth
Microneedle hair growth study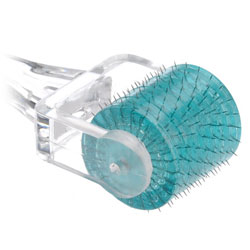 There was research study completed by the Department of Dermatology in Maharashtra, India claiming that the practice of microneedling helped promote hair growth in mice. The researchers also performed the experiment with 100 men who were suffering from the most common hair loss pattern for both men and women – androgenetic alopecia (AGA).
How was the study designed?
In order to increase the accuracy of the results, the researchers randomly divided the participants into 2 groups.
Group 1

They applied 1 ml of 5% Minoxidil to their scalp twice a day

Group 2

They applied 1 ml of 5% Minoxidil to their scalp twice a day
Addition: They also added a Micro needling procedure on their scalp once a week (Note: the participants were instructed to apply Minoxidil one day after the microneedling procedure was completed)
Amazing microneedle roller hair loss results
After 12 weeks of the study, the research team reexamined the participants' scalps in order to find out the total number of hair strands in the affected area.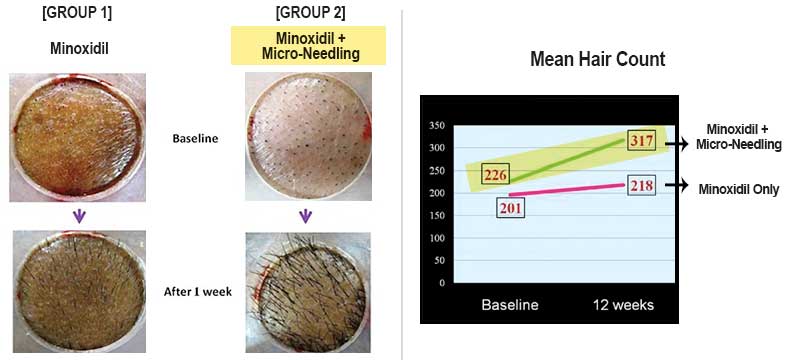 5 TIMES MORE EFFECTIVE!  Group 2 (Minoxidil + Micro Needling Punctuation) noticed significant improvement in the amount of hair (Almost 5 times higher than Group 1!). Photos taken before and after the procedure also make a clear statement about the positive results from using a microneedle roller for hair growth.
So what does the research indicate?
In other words, microneedling therapy increased topical hair loss treatment absorption 4-5 times better than just using the topical solution alone.
How to use a micro needle roller for thinning hair?
According to the same research, the researchers used a 1.5 mm roller on the scalp  "in longitudinal, vertical, and diagonal directions." Basically, you need to roll it on your scalp in every direction possible.
We also found this YouTube video demonstrating how to use the derma roller properly on your scalp:

Other derma microneedle roller uses for hair growth
Minoxidil users: If you are currently using Minoxidil (Rogaine or other generic version), it would definitely be worthwhile using the roller to improve your results (based on the study results provided above).
Essential oil users: We also found out that using a micro needle roller for your hair is not a new thing. Using the dermal roller with essential oils such as rosemary or lavender is becoming more popular now. One study suggests that peppermint oil shows visible hair growth results as little as 2 weeks!
What is the best dermaroller for your scalp?
If this is your first time, you probably want to start with a smaller size microneedle roller to see if you are comfortable using it.
Size recommendation
~ 1 mm (smaller size) for the first time users
1.5 mm (the size used for the above research with great results)
Where to buy a derma roller
There are MANY brands available on Amazon. This roller appears to be one of the popular choices.
Have you used a microneedle roller along with a topical hair loss treatment? Share your experience below.