When I noticed my hair was thinning, the first thing I started doing was to find a list of the best vitamins for hair growth.
I heard about Rogaine (also known as minoxidil), but wasn't ready to commit to a medical treatment as my first step in preventing my hair from falling out. Also, I was afraid of the possible side effects that might come with Rogaine.
What did I find?
Finasteride (also known as Propecia) is a prescription-based hair regrowth treatment for men. People who take finasteride have proved over and over again that the treatment truly regrows hair. You can easily find amazing before and after transformation photos proving the efficacy of finasteride.
However, when you look at the primary side effect of the drug, the excitement starts to fade: possible permanent sexual dysfunction.  The manufacturer claims that not everyone who takes finasteride experiences those symptoms, but do you really want to take the chance? Is hair regrowth worth more than messing up another, more private part of the body?
Propecia is for men only, so to be honest, I don't really have to worry about its side effects. But the point I wanted to make here is that the chances are every medical treatment will usually come with a few (or more) side effects.
What causes hair loss and how vitamins can help
The reasons for hair loss in women are more complicated than in men. It may be caused from any number of factors. Here, I will cover the most well-known reasons and how certain hair vitamins are created to promote hair regrowth (If you want to see a complete list of female hair loss causes and symptoms, read it here).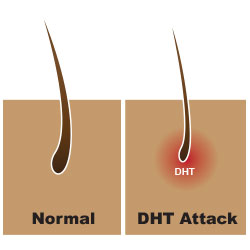 Many experts blame Dihydrotestosterone (DHT) as the main reason for causing hair loss in men and women. DHT is a converted version of the male hormone testosterone. When testosterone combines with an enzyme called Type II 5-alpha reductase, it is converted to DHT which in turn slowly disturbs hair follicles from having a normal growth cycle and results in premature hair loss.
Most hair specific vitamins you see online or in stores are focused on inhibiting DHT activities in our hair follicles, so your hair can start regrowing in addition to eliminating excessive hair shedding.
What you must do in your daily life to prevent hair loss
Hair vitamins can be a great contributor to restoring your thinning hair and promoting healthy hair growth as long as you do one thing: eat a balanced diet.
In a previous article, I shared my personal story about chunks of hair falling out from excessive dieting when I was a teenager. Doing a one-food-only diet for many weeks, I ultimately achieved my ideal weight (Sorry I am not revealing it here). But as a side effect (which I didn't really think about back then), I was losing hair at a rapid rate. This made me immediately change my diet plan. Eventually, hairs were filling in those spots. But I know for a fact that I haven't recovered all of my hair from that experience.
You often hear or read about how a balanced diet is so important to your hair (as well as overall health), but unless something really bad happened (like my hair loss due to unhealthy diet), most of us don't really pay much attention to it. I am hoping that sharing my experience here will increase awareness about the importance of eating healthy for the sake of fuller and thicker hair.
Your hair is mostly made of protein, so eating protein rich foods such as red meat, beans and eggs on a daily basis are crucial to providing proper nutrition to hair follicles. But your body also needs other types of vitamins and minerals like calcium, iron, etc. By consuming fresh vegetables, fruits, lean meats and whole grains (healthy diet plans and lists of foods for hair growth can be found in a previous article).
5 Best vitamins for hair growth recommendations
Based on my research into vitamins designed to stop hair loss and stimulate hair growth, these 5 supplements offer the best formula for your hair. Some of these brands even went one step further to perform clinical trials for the best hair growth result.
These hair-nutrition supplements are essential for people who are experiencing thinning hair or extreme hair shedding. The formulas created by each brand are truly unique and scientifically designed to promote hair re-growth by either providing essential nutrition, blocking DHT in the follicles, or a mixture of both.
Hair supplements that work for hair loss & give you stronger & healthier hair:
I talk about Viviscal a lot because I noticed the vitamin has really helped me reduce the number of hair strands falling out from my scalp. Whenever I brush or wash my hair, I see less hairs on the floor.
The Viviscal company offers four different versions of hair tablets, but two of those are specifically designed for hair growth:
Viviscal Extra Strength
Viviscal Professional

Viviscal Professional vs. Extra Strength
Vivisal Extra strength is the original formula and is what Viviscal was first known for. There are numerous people (including celebrities) taking this daily and the majority have experienced positive hair growth results.
The other one, Viviscal Professional, has similar ingredients to Viviscal Extra Strength, but it has a higher content of AminoMar (their hair growth trademarked ingredient) and it doesn't contain iron. I used to take Viviscal Extra strength, but recently switched to the Viviscal professional tablets since I didn't need extra iron in my body.
Viviscal's secret hair growth ingredient
The company mentions that what makes Viviscal hair vitamins special is a trademarked ingredient called "AminoMar." AminoMar was created by a Scandinavian professor using  a combination of molecules from fish and protein-based foods. The element's function is to nourish thin and fine hair follicles and encourage normal hair growth.  In order to prove its efficacy, the brand went one step further and performed  5+ clinical studies, which is unheard of for hair supplement manufacturers.
Amazing clinical trial result:
The result of the latest study the company conducted shows that 81% of participants experienced a decrease in thinning hair and 75% saw the overall volume of their hair increase.
This is very impressive, especially when you compare this result with the result from the most discussed new scientific method in hair loss industry – stem cell hair regrowth. Replicel specialized in hair regeneration and recently finished their first human clinical trial. It had a disappointing result of only 10% increase in hair density.
No wonder there are hundreds of hair growth reviews about Viviscal considering the amazing results actual users have experienced.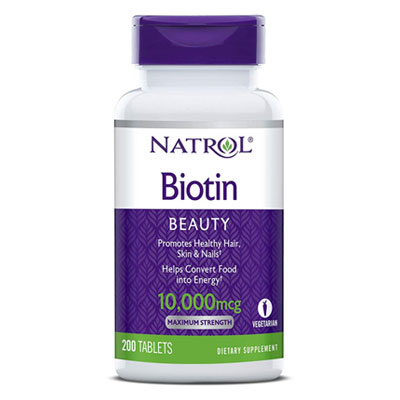 Natrol offers biotin with the highest dosage you can get.  If this is your first time purchasing a vitamin for hair growth, give Biotin a try.
Biotin is a part of the Vitamin B complex and is the most commonly recommended over the counter vitamin by doctors for patients experiencing hair loss.  Biotin plays an important role in producing healthy hair and cell growth.
Numerous people who choose Biotin have hair thinning problems in some parts of their hair (especially the temple area) or all over the scalp. After taking it for several weeks (sometimes less), the majority of the users review that they love the result Biotin gives to their hair (less shedding and filling in thinning spots).
A great thing about the Natrol biotin is the price for the value you get. One bottle comes in 100 tablets which will last you more than three months.  It's the same price as the Venti size of a Vanilla Latte at Starbucks!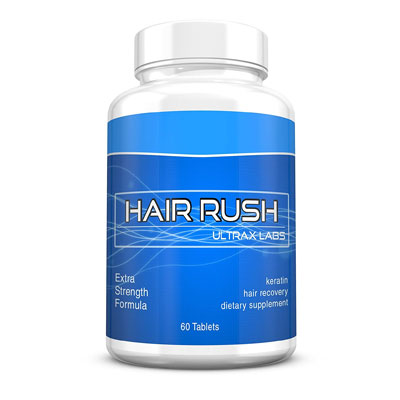 When I saw this product for the first time, it reminded me of the infomercial products you see on TV. Maybe it's the packaging that makes the product less appealing.
Regardless, what's most important is not the packaging, but what is inside.
For the main benefit of the Hair Maxx supplement, the company points out that their hair vitamin is all about inhibiting DHT production using "solubilized Ketrain breakthrough" ingredients. The ingredients are composed of 20 different types of hair-growth promoting herbs, vitamins and minerals that are designed to increase thickness of hair diameter and decrease hair loss at the same time.
I took a close look at each ingredient and noticed many of them are well-known natural ingredients that have been used to treat hair loss. For instance, iodine (kelp or seaweed), included in the Hair Maxx vitamin, is a popular item consumed among people with alopecia areata (bald patchy hair loss). There are also popular herbs such as nettle leaf and saw palmetto included in the formula. Those two natural herbs are known for lowering the damage from DHT to hair follicles.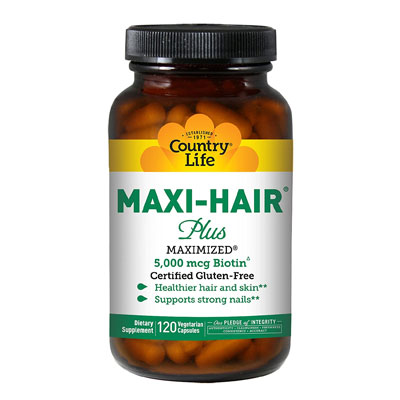 If you are looking for a more affordable alternative hair supplement to Viviscal, consider the Country Life Maxi Hair vitamin. This vitamin is designed to provide essential nutrition to your hair and nails and is packed with different vitamins that are known to promote hair growth (Biotin, MSM, Vitamin A, and Folic Acid, just to name a few).
Taking the Maxi Hair vitamin for several weeks, you will notice your hair feeling thicker and healthier. Another thing I noticed when I first took this supplement is that it made my urine bright yellow. The color eventually faded as time went by.
Time Release formula for full body absorption
What's interesting about this vitamin is the fact that they incorporated time-release technology in their formula.
According to Wikipedia, this mechanism is often used in capsules or tablets for your body to absorb the main active ingredient (in this case, what makes our hair grow properly) over a slower period of time into the bloodstream than immediately releasing it. In this way, your body can take advantage of the full benefits the vitamin is supposed to provide without any waste.
Hair supplements for African American hair:
I often get emails about African American hair type and if there are specific vitamins for black hair growth. Hairfinity is often referred as the go-to supplements for curly and coarse hair. It is a reputable brand that has been around for years. One interesting thing I noticed after doing some research is that Hairfinity and Maxi Hair share very similar ingredient lists.
The reason I listed the Maxi Hair vitamin instead of Hairfinity is that Maxi Hair mostly offers higher amounts of each of those ingredients. Best of all, the Maxi Hair price is also much cheaper than Hairfinity.
Final takeaway
The article above covered important aspects about choosing hair vitamins and supplements as well as the top 5 recommendations for the best vitamins for hair growth.
If you are still unsure of what to choose, start with something that is already popular among women who are experiencing hair loss, such as Viviscal Extra Strength tablets. With 7 clinical trials and officially proved results all over the media, you can't go wrong.