Quick Facts
Revita shampoo is formulated to promote faster hair growth and hair regrowth. One of the key ingredients of the formula is caffeine, which is known for blocking DHT. The company also performed a clinical study and 92% of users had a decrease in hair loss.
Benefits
✓ Blocks DHT
✓ Prevents hair loss
✓ Promotes healthy hair growth
DS Laboratories, the company of the Revita hair growth shampoo, confidently states that Revita is the only shampoo in the market that integrated an anti-DHT property to fight hair loss and stimulate new hair growth.
This is a bold statement because most hair loss shampoo brands such as Nioxin are focused on providing thicker looking hair or less hair fallout. But none of them do not state that their products promote  new hair growth.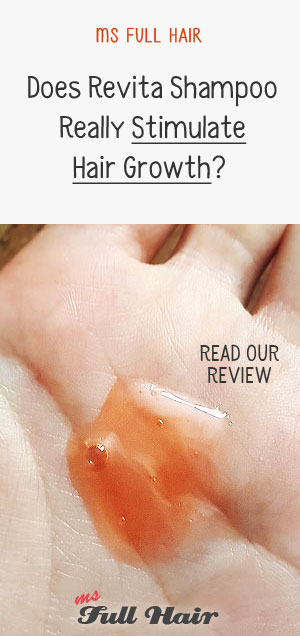 Does Revita shampoo work?
The lead researcher at DS Lab discusses interesting facts about the Revita shampoo's ingredient formulas and how those ingredients stimulate hair growth in this video:
It's surprising that the shampoo uses more gentle ingredients to scalp & skin than baby shampoos. Because there are several reviews pointing out one of the main Revita shampoo side effects as skin irritation such as small pimples on the scalp.
Revita shampoo benefits
DS Laboratories performed a clinical study (similar to Viviscal hair growth supplement) and here are the results of using Revita hair growth stimulating shampoo according to their website:
92% users experienced a decrease in hair loss
85% users experienced improvement in overall hair appearance
70% users perceived an increase in hair growth speed
The company also states the following benefits from using Revita shampoo:
Stimulating new hair growth while protecting existing hair falling/thinning
Reduces dandruff
No sulfates or parabens
Great for both men and women
Nourishing hair with amino acids
Strengthening hair shaft as well as scalp vitality
Antioxidant and anti-inflammatory ingredients to promote healthy hair growth
Giving your hair and scalp fuller and thicker-looking hair
Ingredient highlights
While this shampoo is not as popular as Nioxin in the hair loss shampoo category (yet), what always counts is what's inside. Here are highlights of Revita shampoo ingredients and how each one helps with hair loss:
Caffeine
The study results by the Dermatology clinic of Friedrich Schiller University in Germany discovered a noticeable increase in hair follicle growth (up to 46%) when caffeine was presented. The researchers observed a stimulating effect of caffeine and its direct interaction with the root. This interaction appears to prevent testosterone-based hair loss and stimulates growth at the same time. This means that if you are experiencing hereditary hair loss, topical products with caffeine in them (shampoo, serum, etc) can be a big help by providing a significant stimulating effect for your hair.
Apple Polyphenol
A number of studies indicate that apple Polyphenols extracted from apple skin help increase the changes in hair diameter as well as new hair growth when used as a topical treatment (click here and here for a study conducted by a Japanese research group)
Ketoconazole
Ketoconazole is an anti-fungal ingredient and also known as an effective hair growth stimulant by controlling the excessive production of testosterone according to American Hair Loss Association. If you are suffering from dandruff, also check out Nizoral, the most famous dandruff shampoo containing 1% ketoconazole.
Other hair stimulant ingredients in the shampoo includes Copper Peptides, MSM, Taurine, Rooibos tea, Biotin and Emu oil.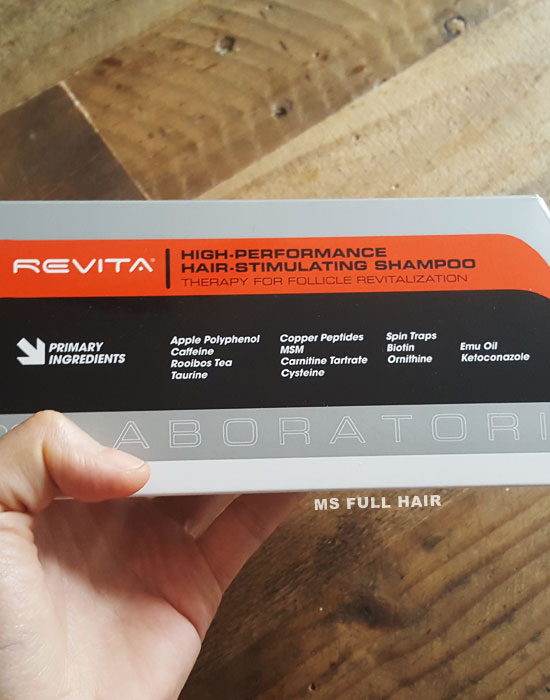 Reviews on Revita hair growth stimulating shampoo
PROS
To start with, we found a great Revita review video here.  He used the shampoo along with Minoxidil (also branded as Rogaine) on a daily basis for a year and half. As you can see, his before and after progress photos show great results in hair regrowth:
Other positive reviews that are often mentioned is a decrease in hair shedding, which aligns with their clinical study result (90% users). Some of these reviewers actually saw new hair growth only after using one month. Also note that many people with positive results precisely follow the direction which you need to leave it for 1-2 minutes, rinse, then let it seat on the scalp for another 3-5 minutes.
Cons
Is Revita shampoo safe? Any side effects? Interestingly enough, going through hundreds of reviews, I noticed that some people experience hair shedding. Some also reported the shampoo makes their hair dull or notice little difference of hair growth before and after using it.
Where to buy Revita shampoo
Our Pick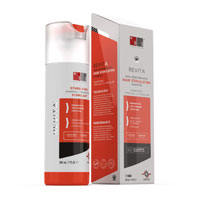 90% of Revita shampoo users reported a decrease in hair loss according to company's clinical study. The formula includes caffeine for blocking DHT and ketoconazole to prevent dandruff
If you are looking to buy a Revita shampoo, it's available at many e-commerce stores  including Walmart, Drugstore and of course Amazon.
Have you tried Revita shampoo? Does it help with your thinning hair?