Quick Facts
Viviscal is a pioneer of hair growth supplement. Designed to prevent hair shedding and stimulate hair regrowth, the supplement is backed by 10 published clinical studies according to the company.
Benefits
✓ Prevents hair loss
✓ Stimulates hair regrowth
✓ Reduces hair thinning
✓ Increases hair thickness
Viviscal hair products (especially their hair growth vitamins) are one of the top selling brands to treat hair loss in women. According to the company website, their vitamin tablets are backed by 10 published clinical studies proving its efficacy.

Does Viviscal work for thinning hair?
When I looked for customer reviews on Viviscal, the first thing I noticed was the huge amount of interest in the product. For example, Amazon alone has almost 700 reviews for the extra strength hair nutrient supplement which is just one of different vitamin lines. The company clearly states their formula is "scientifically proven" to help hair thickness and control hair shedding within 3 to 6 months.
Viviscal benefits according to the company
Viviscal claims the following facts about their hair growth supplement:
Viviscal users saw noticeable results after 3 months
32% users saw an increase in hair counts
39% users saw a decrease in hair shedding
92% users saw an increase in hair thickness
These appear to be the results from 10 published clinical studies.
Viviscal featured on Dr. Oz
Viviscal vitamins was also featured on Dr. Oz (the TV show). The episode features Tabatha Coffey, a famous celebrity hair stylist also known from the "Tabatha's Salon Takeover" reality show on Bravo (aired from 2008 to 2013).
In the episode, Coffey covers 3 major hair issues women often face and recommends products for each case: thinning hair, graying hair, and brittle hair. For the thinning hair part, Tabatha Coffey showcases Viviscal as her recommendation as well.
Extra Strength Viviscal ingredients for women
You may not know this, but Viviscal actually offers several hair supplements (see below for a full list). While each supplement contains a slightly different variation of ingredients, all of the tablets have one in common: AminoMar (the trademarked name which is molecule-based on fish and protein).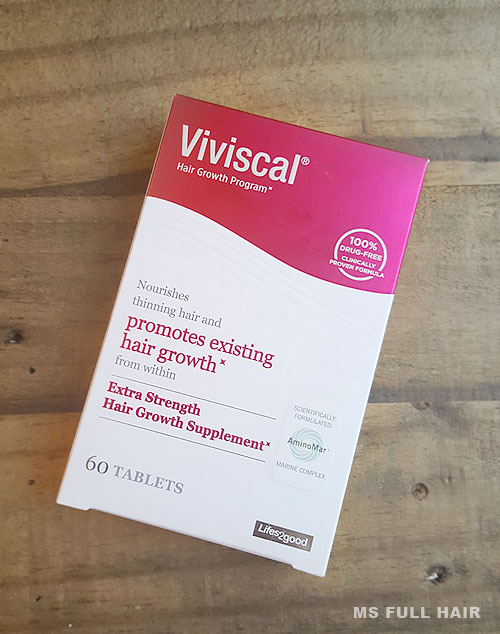 The Viviscal Extra Strength (which this post is about) is the most popular version and has been voted as the best vitamin for hair loss for women in various fashion magazines and TV shows, such as Dr. Oz and The View.
Here is a table that shows the Viviscal ingredients list:
| INGREDIENTS | PER 1 TABLET |
| --- | --- |
| Total Carbohydrates | <1g |
| Vitamin C | 59 mg |
| Niacin | 12 mg |
| Biotin | 120 mcg |
| Calcium | 60 mg |
| Iron | 10 mg |
| Zinc | 11 mg |
| AminoMar Marine Complex | 450 mg |
| - Shark Cartilage | |
| - Oyster Extract Powder | |
| Horsetail (stem) Extract | 36.7 mg |
| Millet Seed Extract | 7.5 mg |
Viviscal supplement size
The size-wise, it is pretty small, so you won't have any problem swallowing the tablet. The recommended dosage is two per day and each box comes with 60 tablets.
Viviscal side effects
A common question: Is Viviscal Safe?
If you are worried about any major negative side effects of Viviscal, the official site states that their vitamin "continues to demonstrate an excellent safety profile" in clinical trials.
But there are several minor things that I came across while searching for Viviscal reviews. First, I discovered there was a change from the original formula of the Viviscal extra strength vitamin. The change includes the addition of iron. It's very important to note that unless you have iron-deficiency, adding extra iron can trigger harmful free radicals in your body.
Another Viviscal side effect I discovered is that it can cause acne on your skin. When it comes to acne breakouts, Viviscal's website also mentions about this and says that their skin scientist reviewed the formula for this specific issue and concluded the ingredients themselves are unlikely the cause of skin issues.
Some people also talk about weight gain due to increased appetite, but to be fair, there are also plenty of other people who disagree with the claim.
Viviscal before and after results
Going through hundreds of reviews from people who have been taking Viviscal, I noticed there are many women experiencing new hair growth in as little as 3-4 weeks. For some people, Viviscal has helped slowed down hair loss rather than seeing regrowth.
Quite a number of women who have positive results started experiencing hair loss at a young age (teens or early 20s). Some of the same females also used hair fibers such as Toppik to hide bald spots on the top crown areas.
The video below is a CBS interview about Viviscal results and features before and after pictures of a woman who had hair loss. She took the supplement for a number of months and as you can see, new hair regrowth on the side of her hair is very noticeable:

Here are also several before and after photos found from Viviscal website: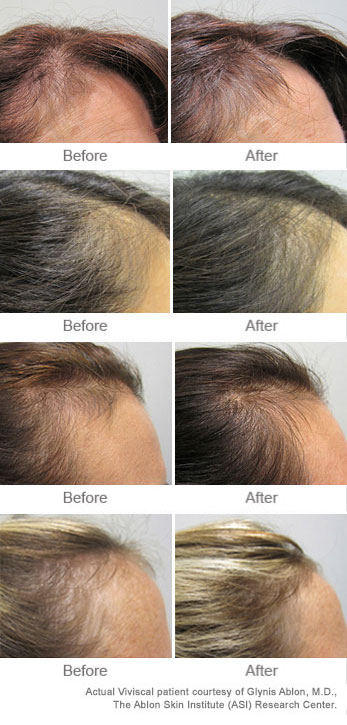 Viviscal hair products offering
First of all, the brand offers several different types of Viviscal supplements designed for hair growth and this can be confusing as each packaging looks somewhat similar.
Viviscal hair vitamins offering:
Viviscal Extra Strength (The original formula)
Viviscal Professional
Viviscal Healthy hair from within
Viviscal Hair repair
The most famous is Viviscal Extra Strength supplements (also often just called as "Viviscal") which this review post is about, but Viviscal Professional is also another popular option among people with female pattern baldness.
Difference between Viviscal Extra Strength and Viviscal Professional
The major difference between Viviscal and Viviscal Professional is the amount of Amino Marine complex, the main active ingredient of any Viviscal hair products. The Professional version contains 475 mg of Amino Marine, while the Extra Strength version has 450mg.
Our Pick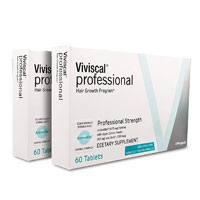 Viviscal Professional contains a higher dosage of AminoMar Marine Complex - the main active (and trademarked) ingredient designed to promote hair growth.
Where can I buy Viviscal hair vitamins that are not fake?
Ok. If you have been searching around for reviews and where to buy Viviscal, one of the most frequently asked questions is about the authenticity of Viviscal hair vitamins sold from Amazon. This is largely due to different tablet sizes compared to other retailers, including Walgreens, Target, and CVS.
The official Viviscal store answered the question: The reason for the difference of tablet sizes and colors is that they have two manufacturing locations (United States and Ireland). In other words, while they look different, the ingredients are actually the same.
But if you are still worried about authenticity of the tablets from other retailers, the best place to buy is, of course, the official Viviscal site.
How is your experience with Viviscal? Did it help regrow hair? Share your comment below.