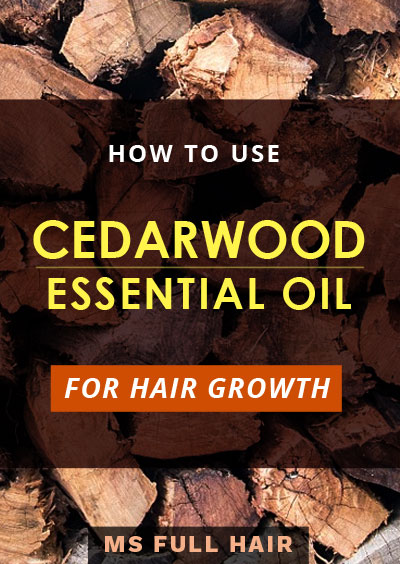 The use of cedarwood oil for hair loss is becoming very popular thanks to a successful alopecia areata study.
In this review, you will learn about cedarwood essential oil, its various benefits including hair, and the famous study that increased the popularity of using cedarwood oil for hair regrowth (Click here to skip to the promising results!).
In addition, we also came across a few success stories of people using cedarwood oil for hair growth.
Finally, we will share our top 3 recommendations and a couple of DIY cedarwood oil for hair recipes (this recipe blend is a must use) for you to try at home.
What is cedarwood oil?
Cedarwood essential oil, also known as cedar oil, has been used as a natural remedy for healing various symptoms for centuries.
Extracted from various leftover parts of conifers such as bark, roots, and needles, these parts then go through a steam distillation process for pure extraction.
Cedar wood has a deep and rich woody scent, making it a great oil for aromatherapy uses in relaxation and stress relief.
This popular essential oil also has many other beneficial properties including antiseptic, antifungal, antispasmodic, and antiseborrheic, just to name a few. This explains its wide ranges of uses for alleviating various ailments such as arthritis, infections, acne and eczema, as well as hair growth.
Different types of cedarwood oils and its uses
If you do a quick Google search on cedar oil, you've probably come across many different types ranging from Atlas cedar essential oil, Texas cedar oil to Himalyan cedardarwood oil.
Let's talk about what's common first… then get into the differences between them.
What's common?
First, all of these different types of cedarwood oils have one thing in common: they are all from conifers –cone-bearing trees with needle leaves.
What's different? Types of cedarwood essential oils and its uses
The main difference comes from the type of conifer species, which in turn provides slightly different aromas as well as compositions in them. Here are the most popular types of cedarwood oils and its uses:
NOTE: There is no black and white in terms of using a specific type of cedarwood essential oil for certain symptoms. Below is simply the information we gathered from various sources and reviews:
Atlas cedarwood oil (Cedrus Atlantica): Great for general hair / skin care and relaxation aids such as massage and insomnia
Himalayan cedarwood oil (Cedrus Deodara): Great as an insect repellent (fleas, ticks, etc), anti-fungal and skin infection treatments, and therapeutic uses
Texas cedarwood oil (Juniperus Ashei): Great for making fragrance
Virginia cedarwood oil (Juniperus virginiana, also known as red cedar oil): Great for oily skin and acne issues. It's also extensively used in beauty products, to aid in respiratory issues, acts natural insect repellent, relieves stress and anxiety, and also helps with strengthening gums
Chinese cedarwood oil (Juniperus Funebris): Great for anti-inflammatory treatments, a bug repellent (ticks), muscle pain and aches, and as a fragrance
Other types include Lebanese Cedar (Cedrus libani) and Cyprian Cedar (Cedrus brevifolia).
Quick guide:
Here are types of cedarwood essential oils you may want to consider based on your symptoms:
What's the best cedarwood oil for hair growth then?
Which oil is good for hair? If you are looking for the best cedarwood oil for hair loss, go with Atlas Cedar, which also happens to be the most popular cedarwood essential oil of all types (Click here to see our top 3 recommendations).
Cedarwood oil benefits
Here, we will briefly list 22 most popular cedarwood essential oil uses and benefits:

Promotes hair growth
Prevents hair loss
Tightens and tones the skin
Treats acne
Reduces eczema
Treats muscle spasm
Relieves stress
Improves sleep
Helps with arthritis
Helps with toothaches
Strengthens gums
Works as a bug repellent
Works as a natural cough medicine
Calms the body and the mind
Relieves pain
Promotes proper blood circulation
Reduces inflammation
Prevents fungal infections
 Regulates menstruation
Regulates diuretic production
Improves concentration
Works as natural deodorant
What are the benefits of cedarwood oil for hair loss and growth?
How does cedarwood help hair growth? Cedarwood oil has antiseborrheic and anti-fungal properties which reduce excessive sebum buildup on the scalp (thus preventing premature hair loss) and minimizes skin inflammation such as dandruff and folliculitis.
Cedarwood essential oil also promotes increased blood circulation, which helps stimulate hair follicles when topically applied on the scalp.
Here are the details of cedarwood essential oil benefits for hair growth
Cedarwood essential oil helps balance the production of sebum
Cedar wood oil has antiseborrheic property, which simply means that it controls the overproduction of sebum.
When sebum is over-produced, it can lead to all types of scalp inflammation issues including premature hair loss.
How? This is how it works:
Sebum is a natural oil produced by the sebaceous glands in the skin. Sebum plays an important role in moisturizing skin, keeping PH in balance, and assisting the skin from drying out.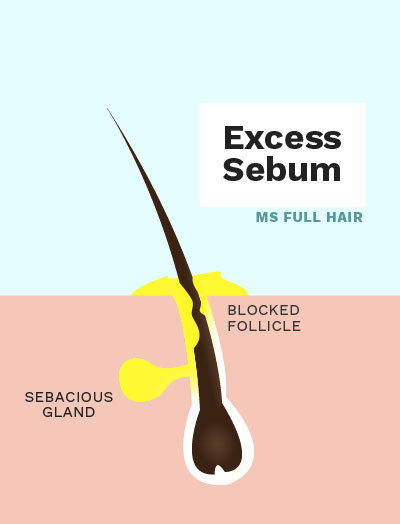 The issue arises when the sebaceous glands produce excess sebum.
This often results in what you call "oily scalp" caused by clogged hair follicles in the pore areas. Excess sebum buildup on the scalp also interferes with the normal hair growth cycle, which can result in unwanted hair loss.
You can effectively use cedarwood oil for hair loss prevention, thanks to its natural ability to regulate sebum levels.
Cedarwood essential oil prevents dandruff and other scalp fungal infections
Cedarwood oil contains anti-fungal and anti-inflammatory properties.
When used on scalp (mixed with a carrier oil such as olive oil), it can prevent various fungal infections that are closely linked to hair loss: folliculitis (follicle inflammation), ringworm (the cause of patches of hair loss), and seborrheic dermatitis (scaly and inflamed skin as well as severe dandruff)
Cedarwood essential oil increases blood circulation
Cedarwood oil is easily absorbed through the skin.
A number of studies show the benefit of using cedarwood essential oil externally on symptoms such as joint issues and menstruation regulation. When applied on the problematic areas, it helps increase blood flow.
You can also use cedarwood oil to help stimulate hair follicles by increasing blood circulation to the scalp.
Its easy-absorption along with antiseborrheic and anti fungal properties make cedarwood essential oil a great candidate to stop hair loss and promote hair growth.
Now, let's get to the more exciting part – the study:
Scottish study using cedarwood oil for hair loss
A Scottish study in 1998 (1) shows the benefit of using cedarwood oil for hair loss, specifically for alopecia areata (also known as bald patchy hair loss).
In order to find out the efficacy of using certain essential oils for regrowing hair, the researchers formulated a hair growth oil mix, which consisted of the following 6 essential oils and carrier oils:
Cedarwood essential oil
Thyme essential oil
There were 86 participants with alopecia areata in this study (divided into 2 groups).
The first group was given the above mixture (essential oils + carrier oils) to be applied topically, while the other group (control group) was prescribed with carrier oils only (jojoba oil + grapeseed oil).
What was the result?
After 7 months, 44% of the first group (treated with essential oils + carrier oils) saw great improvements on reversing alopecia areata, while the other control group's result was limited to 15%.
Medical journal, JAMA Dermatology, shares the AMAZING before and after photos from the study: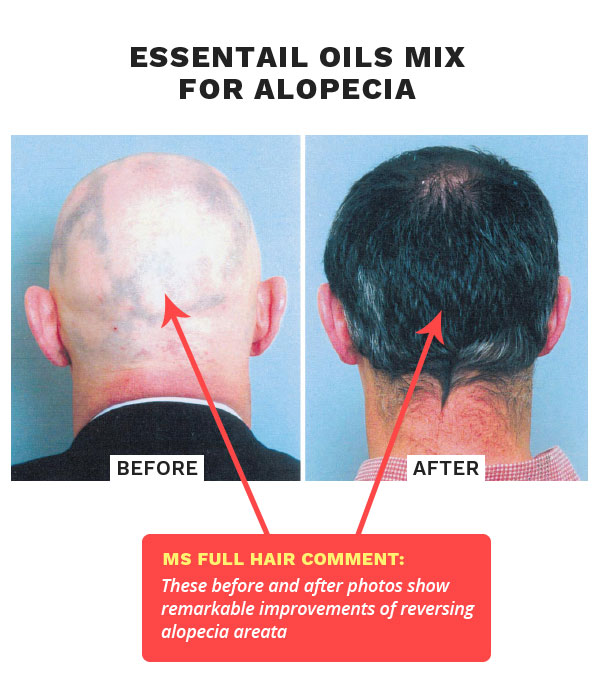 The before photo (left) shows the shaved head. You can easily see smooth balding patches in various places.
Now look at the after photo. It shows complete hair regrowth. It's even difficult to recognize if it's the same person.
What does this result mean to people with thinning hair?
There are 3 important things to note from this hair loss study:
The most obvious: You can use cedarwood oil for hair growth and preventing hair loss
The study shows the power of using certain essential oils for hair loss and regrowth (which includes cedarwood oil)
The fact that 15% of the control group (Jojoba oil and grapeseed oil) saw improvement indicates that these two oils can still be used as powerful carrier oils to promote hair growth and treat hair loss.
More success cases: Cedarwood oil for hair growth reviews
In addition to the study, we also found a number of people who have successfully used cedarwood essential oil for hair.
A woman with postpartum hair loss sees amazing results after using cedarwood oil for thinning hair
We also came across a blog(2) that shares her before and after photos of using the above study oil mixture (cedarwood, lavender, rosemary and thyme) for her postpartum hair loss.
Her before photo shows how severe her hair loss was after pregnancy, especially on the side part of her hair.
The after photo shows visible new hair growth filling in the thinning spot. What's more amazing about these before and after photos is that it only took 1 month to begin seeing results.
If you are looking for the best essential oil for thinning hair, add this mixture to your list (see our Recipe #1 on how to make it at home).
A man uses cedarwood oil to regulate sebum production
One guy from Hair Loss Talk shares his cedarwood essential oil experiment (3).
He tested cedarwood oil on one side of his chin. After a couple of weeks, he clearly noticed that the area is definitely producing less sebum by witnessing dryer skin compared to the other side. This is likely due to cedarwood's anti-seborrhoeic property, which aids regulating the production of sebum levels.
A patent filed by Johnson & Johnson also proves this point (4). The document points out that cedarwood and poplar bud extract are effective in reducing sebum levels.
What are the best essential oils for hair growth and thickness other than cedarwood?
Consider
peppermint
and
rosemary oil
for essential oils that stimulate hair growth. For carrier oils for hair,
olive oil
provides multiple benefits for extending the anagen phase, preventing hair loss as well as thinning hair issues.
Cedarwood oil side effects
While cedarwood essential oil is considered to be safe, there are a number of things to keep in mind.
First, it's generally not recommended to be used during pregnancy.
Next, when you are planning on using cedarwood essential oil for hair loss (for topical use), make sure to dilute with a carrier oil. This will prevent any possible irritation or increased skin sensitivity.
It's also possible that you may have allergic reaction to cedar trees. The best way to find out is to do a quick patch test at home by mixing a tiny amount of essential and carrier oils together to your inner elbow. Leave it up to 24 hours to determine if there's any skin reaction to the applied area.
Where to buy cedar oil for hair?
If you are looking for variety of options to choose from, Walmart and Amazon are two great online stores.
Also, make sure you are buying cedarwood oil made from Cedrus atlantica (also known as atlas cedarwood essential oil), not Juniperus Virginian. Cedrus atlantica is the specific species of cedarwood essential oil used in the above alopecia study.
See our cedarwood essential oil recommendations below, which are ALL based on Cedrus atlantica.
Top 3: What's the best cedarwood essential oil for hair growth?
Here are top 3 atlas cedarwood essential oils to consider for stimulating new hair growth: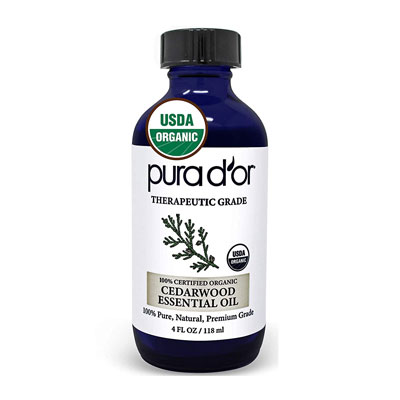 USDA Organic certified
Pura dor cedarwood oil is 100% pure essential oil with USDA organic certification.  Pura dor is known for their best selling shampoos, but they recently expanded their product offerings which include a variety of essential oils.
USDA organic certified
Plant Therapy's cedar essential oil is another option to consider if you are looking for USDA organic certified oils and affordability.
This pure essential oil comes in 2 different sizes and the bigger size (30ml) is definitely a better deal price-wise.
Reputable brand
Edens Garden is a well-known brand in the essential oil industry. They offer affordable equally high-quality essential oils. Their Cedarwood oil is no exception to this. The brand does not use pesticides, gmo or additives in any of their formulas.
Edens Garden cedarwood oil also comes in an euro dropper cap (the dripper insert attached to the cap), which makes it convenient for measurement when you are mixing oils for hair growth.
2 DIY Recipes – How to use cedarwood oil for hair growth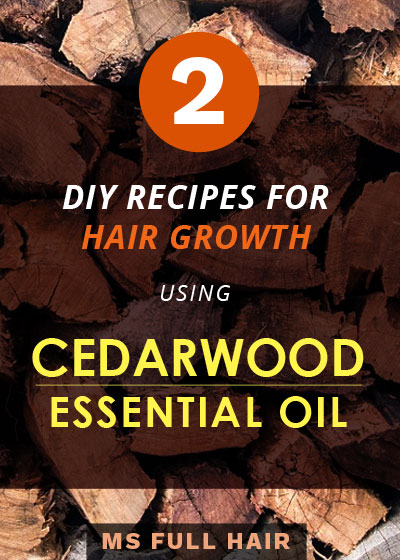 Recipe 1

The PROVEN regrowth recipe
Use this cedarwood oil hair growth recipe if you want to copy the study formula. It shows you how to make a stimulating essential oil blend for hair growth:
Ingredients
This is the ratio used for the alopecia study, but it only makes a tiny amount. In order to use it consistently, multiply each amount by 10 at least and store in an area without direct sunlight.
Directions
Mix all of the essential oils and carrier oils together in an amber glass bottle (preferably with a dropper like this one)
Apply the hair growth oil mix to the entire scalp
Massage it for 5-10 minutes
(Optional) Wear a heat cap for full absorption of essential oil mix
Leave it for 2-3 hours
Rinse it well
How long?
Apply the oil mix every night for at least 3 months to see the results.
Recipe 2

The INSANITY hair growth stimulating recipe
Do you like to add every possible essential oil to stimulate hair growth? Use this hair regrowth recipe, which we added a couple of more oils to the study formula.
Ingredients
Directions
Mix all oils together in a glass bottle
Apply the hair growth oil mix to the entire scalp
Massage it for 5-10 minutes with your fingers or automatic scalp massager
(Optional) Wear a heat cap for full absorption of essential oil mix
Leave it for 2-3 hours
Rinse well
How long?
Apply the oil mix to the scalp every day for at least 3 months to see the results.
Final takeaway
Can I use cedarwood oil for hair loss?
Cedarwood offers a number of natural properties that are great for hair.
Its anti-inflammatory, anti-septic, and antiseborrheic agents make this essential oil a great option for stopping premature hair loss and keeping your scalp healthy by providing just the right amount of natural moisturization.
Then, the next question is: Is cedarwood the best oil for hair growth and thickness?
If you are going for significant result, use cedarwood oil by mixing with the following essential oils – thyme, rosemary, and lavender oils to get the maximum regrowth benefit.