Do you search tirelessly for the most reviewed hair loss supplements on Amazon?
In this post, we will give you a very-detailed review about the supplement – HairAnew vitamins – which currently has over 8000+ rave reviews with 4.5 star ratings. We will specifically talk about HairAnew reviews for hair loss and what to expect from when using it.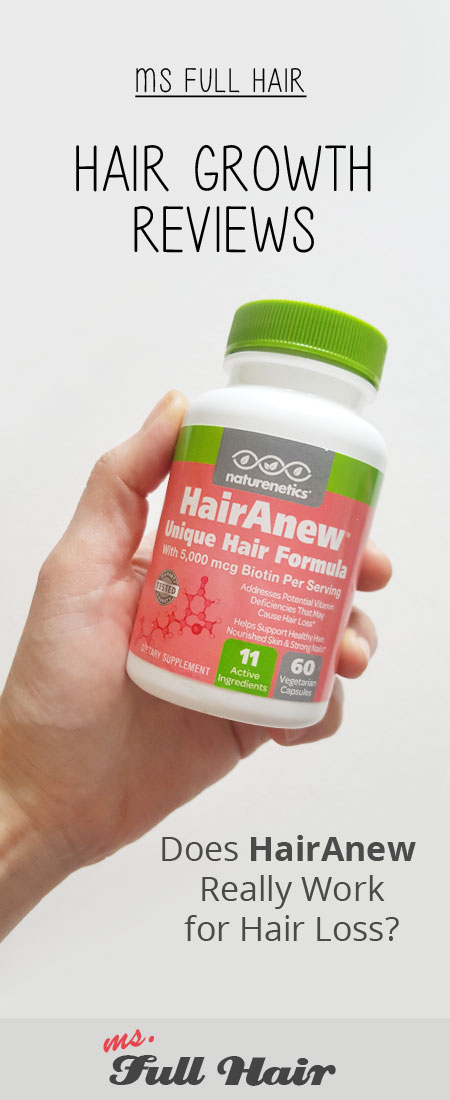 As we all know, there are hundreds of hair growth supplements on Amazon, but finding one that is backed by numerous verified purchasers reporting new hair growth and thickness is like finding a needle in a haystack.
In this Naturenetics HairAnew Unique Hair Formula review, we will cover everything you need to know: a brief about the company, HairAnew ingredients (11 active ingredients), a summary of people's positive and negative HairAnew reviews, a free sample offering (it's true! Go straight to details), and other important facts you need to know about this popular hair growth supplement.
Let's get started.
About the company, Naturenetics
Naturenetics is a supplement company focused on providing products made with high-quality ingredients. In fact, the company goes a few extra steps by hiring independent labs to test the safety and efficacy of their products.
The most popular product from Naturenetics is HairAnew supplement – their hair growth vitamin (review below) with 5000 mcg biotin per serving. The company also offers other health supplements such as Probiotics and Fish Oil. Based on the official site, the company clearly mentions that all of Naturenetics products, including HairAnew, follow strict GMP (Good Manufacturing Practices) process and FDA regulations.
Another important thing worth mentioning is their top notch customer service and knowledgeable staff. Going through HairAnew reviews after reviews, we noticed almost all buyers are very satisfied with their customer support as well as fast delivery and refund policy.
Interview with the founder
We connected with Graeme Potter, the founder of Naturenetics, to hear his story and learn what motivated him to start Naturenetics and HairAnew vitamins.
His journey started from a number of health issues in his family. One family member was diagnosed with Parksinson's and another with MS, all while Graeme was dealing with his own challenges. He says, "I completely changed my diet, I researched all the foods and nutrients that have been shown to help with blood conditions and incorporated them into my daily routine."
He continues, "So it was a combination of these things that inspired me to want to help others with their health. I identified some initial areas that people wanted help with, and one was hair…it can be very distressing losing hair, and often it can be due to an underlying vitamin deficiency. So I worked with our scientists and formulators to come up with the best possible range of nutrients to support healthy hair, and that's how HairAnew was born."
Graeme also provided new information about the lab testing performed on HairAnew supplements. The company actually uses 6 independent laboratories to test every batch of HairAnew.
Why go to such great lengths? There are several reasons the company performs such arduous testing on their products: "These tests prove our customers are receiving the full amount of all hair-boosting ingredients in every capsule, and safety examinations confirm the capsules pass every test for mycotoxins, pesticide residues, glyphosate, solvents, heavy metals, microbiology & allergens. We've also had stability tests completed that show all the ingredients retain their full potency to the end of each bottle's 2-year shelf life."
As far as we know, Naturenetics appears to be the only company that actually does extensive lab tests to ensure the safety and potency of their products in every batch, which we as a customer can really appreciate.
What the company says about their HairAnew vitamins in relation to hair loss?
Naturnetics says that their HairAnew supplement is formulated with 11 unique ingredients including different types of herbs, vitamins, amino acids, trace elements and minerals. This specific formula the company claims is designed to nourish hair follicles inside and out and provide healthy hair growth.
In other words, these are great supplements for hair loss due to the carefully selected ingredients to promote hair growth and prevent hair loss or excessive hair fall out.
HairANew ingredients – What are the 11 active ingredients?
Now the most important part – HairAnew ingredients. Here is a list:
| | PER SERVING |
| --- | --- |
| Vitamin C | 750 mg |
| Vitamin E | 50 IU |
| Niacin | 25 mg |
| Vitamin B6 | 25 mg |
| Biotin | 5000 mcg |
| Pantothenic Acid | 40 mg |
| Zinc | 15 mg |
| Kelp | 160 mg |
| Inositol | 50 mg |
| Ginko Biloba | 45 mg |
| Bamboo Extract | 20 mg |
(Per serving: 2 capsules)
Quick view: There are a total of 11 active ingredients included in HairAnew vitamins, which numbers less than other popular hair loss supplements such as Hairfluence (total 16 ingredients) or Hair Essentials (total 22 ingredients).
However, it's important to note that more ingredients doesn't necessarily mean better performance. What actually matters is if it promotes hair growth and helps with hair loss prevention by reducing any excessive hair shedding or fall-out.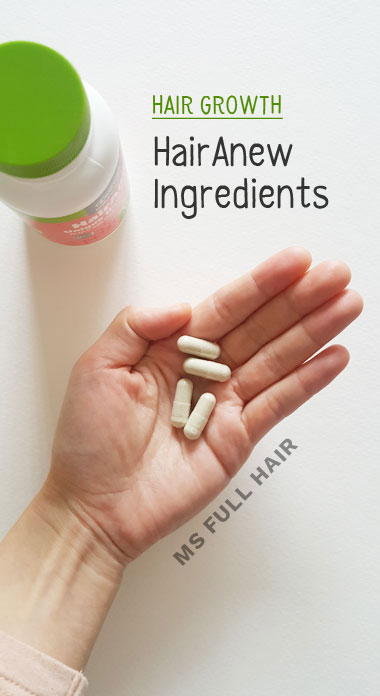 Here are highlights of key HairAnew ingredients and how each ingredient can help with hair regrowth:
Biotin
HairaNew supplement includes a high content of biotin – 5000 mcg – which is a great start. As you've probably heard many times already, adding biotin for hair loss is a basic step in building a healthy hair foundation. Well-known public authorities such as Dr Oz and Dr Axe suggest taking biotin for maintaining healthy hair growth, nails and skin. The fact that the HairAnew unique hair formula contains 5000 mcg simply eliminates the needs to take biotin supplements for hair separately.
Zinc
HairAnew vitamins includes 10 mg (=10,000 mcg) of zinc per serving. Our body needs Zinc for various reasons including proper cell growth and maintenance of body functions, regulating immune system and thyroid, etc. The list goes on.
When it comes to hair growth, Zinc regulates hormone levels, which are linked to the cycle of natural hair growth. A Zinc deficiency can compromise hair follicle structures, thus promoting premature hair falling out. According to WebMD, the lack of Zinc can also lead to dry skin and patterned hair loss.
Kelp
Kelp is another ingredient included in the formula for stimulating hair growth. Thanks to its naturally high iodine content, amino acid l-lycine (protein building blocks), and rich minerals such as magnesium and iron and zinc, people who are experiencing thinning hair or hair loss due to hyperthyroidism can benefit from kelp.
Also, according to a study conducted by Dr David Rushton published in Clinical Experimental Dermatology in 2002, the researcher reported positive improvements in hair shedding when using l-lysine and iron therapy, the main sources of kelp.
Ginkgo Biloba
Ginkgo Biloba is a popular herbal ingredient for treating hair loss. According to a number of studies, including the University of Maryland Medical Center, Ginkgo Biloba helps in widening blood vessels, which in turn, provides a clear pathway for proper nutrition to get to hair follicles. For the same reason (blood vessel widening effect), Ginkgo Biloba also promotes better scalp circulation by improved blood flow. According a study conducted by Massachusetts General Hospital in 2001, the researchers saw a huge improvement in the increase of total hair volume by 70% when tested on mice.
Bamboo extract 70% silica
Silica is another popular at-home natural ingredient known for stimulating new hair growth. This mineral helps in repairing connective tissues in the body and maintaining the integrity of healthy hair and skin. According to a study "Use of silicon for skin and hair care," the higher content of silicon on hair strands is associated to less hair falling out, due to increased hair strength.
Bamboo vs horsetail? Most hair supplements that contain Silica are doing so by using either Bamboo or horsetail. When it comes to the amount of silica content though, Bamboo extract has a lot more silica than horsetail. (70% vs 7% when comparing between bamboo vs horsetail supplements). HairAnew unique hair formula uses Bamboo extract, thus containing a much higher silica content.
Other hairAnew ingredients not mentioned (but no less important) include Victamin C, Vitamin B8 (Inositol), Vitamin E, Niacin, Vitamin B6, Pantothenic Acid.
Now as a part of our HairANew reviews, let's briefly go over the company ethic, which we think is very important to mention here.
Being transparent: Independent labs performs efficacy and safety testing
This is one of the few hair loss supplements we've seen so far that actually performs independent lab testing on the purity and safety of their product. In addition, just look at the list of active ingredients on the label. They definitely seem to have the optimal strength for hair growth.
Look at this chart:
The above photo shows all the detailed results from Naturenetics HairAnew vitamins, which is performed by an independent 3rd party lab. Take a quick glance at the ingredients listed on the "label claim" vs the test results. The results show many of the ingredients to be equal to or better than the claim.
Taking Biotin as an example, the label claims 5000mcg is included per serving. Yet, the test result shows that the actual Biotin amount included per serving is 5730mcg, which is almost 10% higher.
Another test performed is for the purity of each capsule to find out if it is free of toxins and pathogens. This is done by using Soleris (an LED-based method) and ICP/MS (detecting metals and other elements) test methods. The result shows a significantly lower number per capsule than the standards set.
On a related note, Naturenetics add that certain metals are naturally-occurring components often found in the soil and any environment where plants are grown. The founder says "As our products, and other natural supplements in general, are produced from extracts of these plants, a very small trace amount (near-zero) of these metals may be present."
In the same statement, he also adds that in order for Naturenetics to provide the safest quality to its customers, they actually perform testing on both raw materials before production AND send post-production samples to independent labs.
HairAnew reviews for hair loss and promoting hair growth
The MOST REVIEWED hair growth supplements on Amazon
HairAnew supplement is the most reviewed hair loss and hair regrowth supplements on Amazon as far as we know (as of 2018). The product currently has 8000+ reviews with 4.5 star rating which is a really impressive number.
We're sure everyone has (or will) scour the Net to check both the positive and the negative reviews, in addition to other research (analyzing active ingredients and company background, for instance) for any new or existing hair growth supplements and vitamins.
In the HairAnew reviews for hair loss, we found some interesting facts and many customer before-and-after photos.
HairAnew reviews with positive results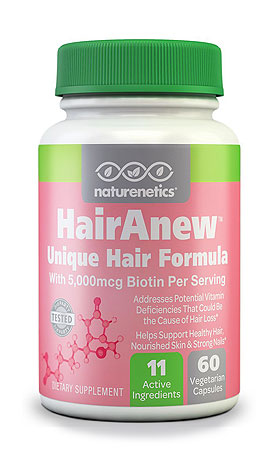 Regrowing patchy hair loss:
Some of the HairAnew before and after photos in the Amazon review section show amazing results. What actually intrigued us the most were a number of customer photos showing bald patchy hair loss (which look like alopecia areata).
Looking at their before photos, you can see both women had no almost zero hair strands where the patchy hair loss occurred. To our amazement, the after photos show complete hair regrowth on those bald spots. As a reference, it took one reviewer about 3-4 months of taking HairAnew supplements, while another reviewer started seeing results in 2 weeks.
Reversing hair thinning and less shedding:
Another reviewer named "Marcela Land" shares her story of and a photo of her visible scalp due to post-pregrancy hair loss and iron deficiency.
Her HairAnew before and after results are so significant. When you look at her before photo, you can see she is having general diffused thinning especially the frontal and crown parts of her head. But her after photoshows those thinning spots are more filled in and looking a LOT thicker. She claims it took a little more than a month. There are also many other reviewers claiming new hairs visible growing on thinning spots and preventing excessive shedding.
A big help with African American hair
We also noticed a quite number of reviews pointing out that hairAnew unique hair formula supplement helped regrow hair on the thinning edges and the sides. One of the reviewers by "wasabiglow15" shared her before and after photo showing parts between her braids, totally filled in with new hair growth.
Promoting faster hair growth
Quite a number of reviews report faster hair growth after taking HairAnew supplements. If you quickly browse the Amazon review photo section, you will see a bunch of those photos comparing hair lengths. This is a good indication that HairAnew unqie hair formula helps promoting healthy hair growth as the company claims.
HairAnew vitamins reviews with negative (or no) results
No noticeable change
Similar to other hair loss vitamins and supplements, not all reviewers experienced hair growth. While it's true that there are numerous positives reviews reporting new hair growth and less hair shedding, there are also reviews reporting that they didn't notice much improvement.
(As a side note, whatever hair re-growth supplements you decide to take – whether HairAnew or any others – give it at least 3 months to expect results. This is the general guideline for dietary supplements and is especially true for hair related products)
Acne issues
While Naturenetics claims the product doesn't have any side effects, one of the common complaints of HairAnew side effects are breakouts on the skin (which we found by going through 1-2 star reviews). The reviewers say that HairAnew vitamins caused acne on their faces, and some noticed this reaction in as early as two weeks of using it.
Other notes about hairAnew vitamins
Here is other information we found from the Q&A sections:
Taking HairAnew after chemo treatment: There are a handful of reviews that HairANew has shown positive results when regrowing hair after loss due to chemo and radiation treatments
Women experiencing hair thinning due to post pregnancy also have good success with hair regrowth
HairAnew vitamins are free of wheat, gluten, milk, soy, eggs, fish, shellfish, peanuts and tree nuts
HairAnew is made in USA and Manufactured in an NSF GMP Registered Facility
Quick Summary – HairAnew pros & cons
Based on what we discussed above, here is a quick summary of pros and cons about Hairanew reviews for hair loss:
PROS
It's the most reviewed supplement for hair loss and hair growth on Amazon with 4.5 star rating as of Feb 2018 (This says something)
Numerous users report new hair growth on thinning spots as well as big improvement in hair loss and excessive shedding
The company uses 6 independent laboratories to test its efficacy and safety of their formula on each batch
The company backs their products 100% by providing top notch customer service and knowledgeable staff
It is completely vegetarian / vegan (no animal cruelty here, in other words, free of animal testing)
The company gives out a FREE FULL-SIZED sample (1 month supply) to try out.
CONS
Some people report no significant improvements on their hair growth
Skin breakout is often talked about among 1 star reviews
Now, the fun part. Many people ask about their HairAnew free sample, and yes it is true. They DO give out a free sample (actually a full-sized product) and this is how you can claim yours.
HairAnew FREE sample and How to claim your HairAnew coupon
When we ordered HairANew vitamins from Amazon, a coupon was included in the box with the big word "FREE" (which can make anyone excited). The coupon gives clear instructions on how to claim your HairAnew free sample.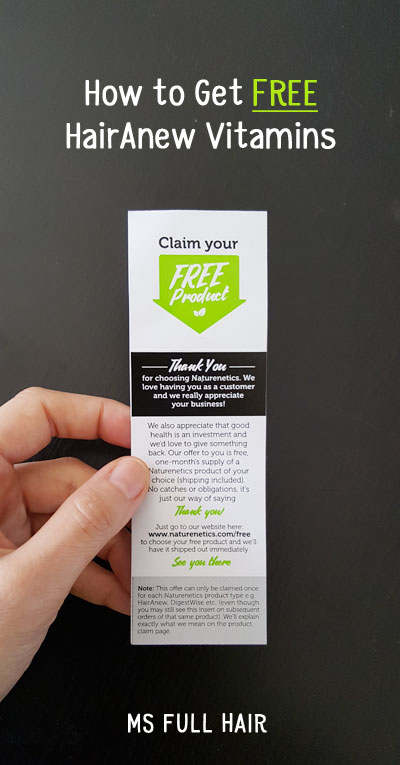 Note that they don't just give out free products. This is NOT a HairAnew free trial. You first need to purchase HairANew vitamins on Amazon. Once you receive the product, it will have a free coupon included in the box.
Once you get the HairAnew supplement, do the following to get your FREE HairAnew sample:
Go to this link: http://offers.naturenetics.com/free/
Scroll down, you will see the box where you can enter your Amazon order number. Copy and paste the order number there.
It will automatically grab your shipping address that was entered on Amazon. Confirm the shipping address and choose your FREE product (You have a choice of getting the same product, HairAnew, or any other products from Naturenetics. in our case we opted for HairAnew)
Wait for your FREE product to arrive
Ours arrived within 3 days via first-class USPS mail. This is a one-time coupon, meaning you can't keep getting free products every time you order HairAnew from Amazon.
Where to buy HairAnew vitamins
Our Pick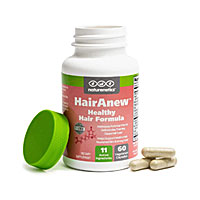 HairAnew supplement contains 11 popular hair growth promoting ingredients. It also contains 5000mcg of biotin and there are currently over 8000 reviews with 4.5 star ratings.
If you want to receive a FREE additional product from Naturenetics (meaning another box of HairAnew vitamins), we suggest you take advantage of the product sold on Amazon here. The link to claim a free product asks the user to enter their Amazon order number (this appears to be an Amazon exclusive deal).
Final takeaway
Does HairAnew work for hair loss?
It's clear that by taking HairAnew vitamins, many users, though not all, are experiencing actual new hair growth.
Going through HairAnew reviews for hair loss from numerous people, we came across quite a number of positive reviews reporting reduction on hair shedding and new growth with baby hairs filling in thinning areas on the scalp. Also users who were suffering from hair loss due to post-pregnancy and chemo treatments appeared to have greater results with HairAnew supplement.
Either way, it's worth trying the MOST REVIEWED hair growth supplement on Amazon (as of 2018), which also happens to be by a company that pursues 100% transparency with their customers by performing independent lab testing for its purity and efficacy of their hair growth formula.
Have you tried HairAnew vitamins for your hair loss? Share your photos or experience below!