Trying to regrow hair on one or more small bald spot(s)?
We came across a video in which she shares her hair loss before and after photos and some amazing tips on how she regrew hair on her frontal bald spot. The best part? It's ALL NATURAL.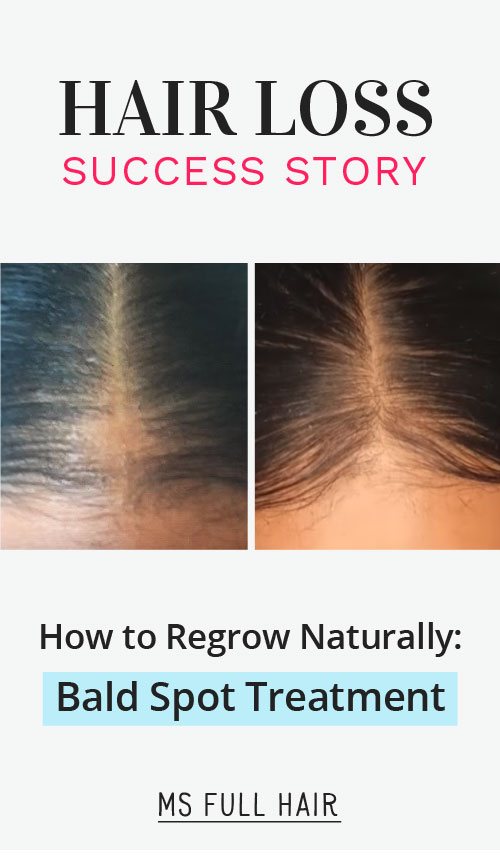 Her story
She starts the story by sharing how she initially got the bald spot.
She sometimes wears a wig. Whenever she does wear it though, instead of gluing the whole front part to secure it (which can cause hair follicle damages), she only applies the glue around where the wig's part is located.
But one day, she was out of town and didn't bring all of the tools she normally uses for a wig-wearing prep. So she decided to try something different – leaving a little bit of her frontal hair, then glue directly behind to stick the wig down. This trick worked perfectly.
Since it seemed to work so well, she used the new gluing method for a whole month.
Then, one day, she took her wig out and noticed a smooth bald spot at the beginning of the frontal part of her hair (this was the area where she put glue on for about a month or so).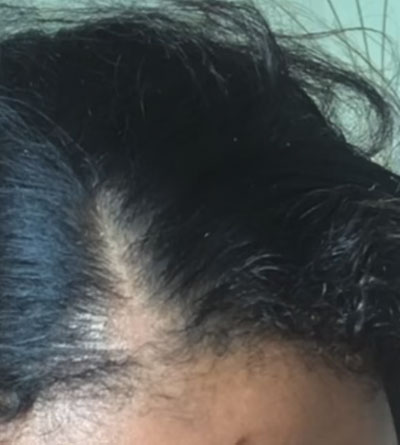 This really devastated her (or anyone as you can image), thus her hair regrowth search began – specifically on how to regrow hair on a bald spot on head.
Hair loss search began
She says the #1 thing that kept coming up while searching for a hair loss cure was black castor oil. Since she already had some on hand, she started using it every morning and night by rubbing onto the bald spot for 3 weeks straight. During that time, she didn't notice any major improvement.
So she did more extensive research on all the essential oils for hair loss and decided to try almost everything people claim to be the best remedy for reversing hair loss and regrowing hair.
Her success formula
Let's look at her after photo first. This is after 2 months: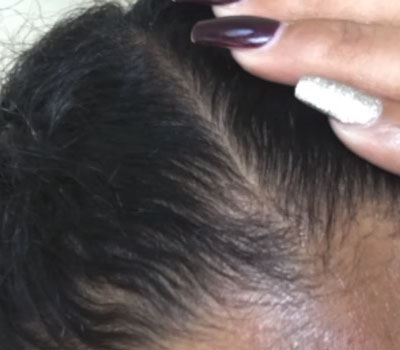 After 3 months: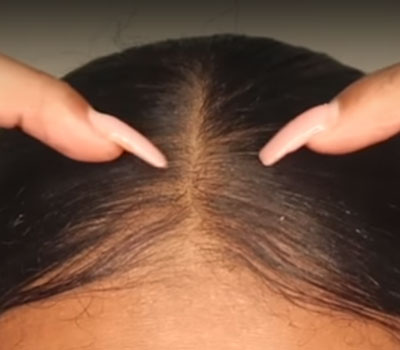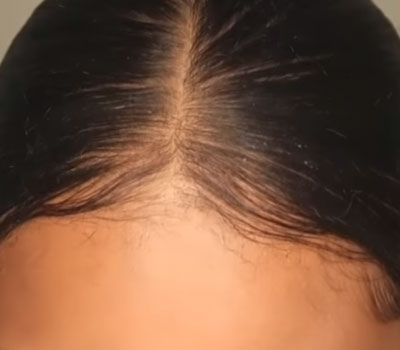 You can clearly see new hairs totally filled in the bald frontal spot.
So the most important question – What did she do to regrow her hair on bald spot of head?
After searching all types of natural remedies for hair loss available today (especially different types of hair growth oils), she decided to make her own DIY concoction based on the findings:
Ingredients
Directions
Mix the ingredients together into a pointy-tip application bottle
Apply it every morning and night for 3 months
(Optional) Use a scalp massager to stimulate blood flow on the scalp
How long?
Try for 2-3 months to see results
She put all ingredients in a pointy-tip plastic bottle and started applying onto her head for 3 months.
In addition, she says that she also used a scalp massager to stimulate not only the bald spot, but also all over her head.
How long did it take?
She started seeing new hair growth on the frontal bald spot in just 2 month.
Final takeaway
It's interesting to see that some people experience hair regrowth using black castor oil alone vs others seeing no major improvement, which was also the case for Bryana.
However, when she used black castor oil in a mixture of other hair growth stimulating oils, her hair grew back. So, if you are looking for a natural way to regrow hair on small/tiny bald spots like her, try the mixture for 2-3 months like she did and gave her new growth.