If you've been looking for hair vitamins to prevent further hair loss and possibly promote new hair growth, chances are you've come across a supplement called Hair Essentials by Natural Wellbeing.
In this Hair Essentials review, we will cover everything you need to know about it.
First, about the company
Natural Wellbeing, the manufacture of Hair Essentials dietary supplements, was founded in 2001 and has been in business for about 15+ years now. An important thing worth mentioning about Natural Wellbeing is that the company manufactures all of their supplements to cGMP-certified (Good Manufacturing Practices) standards in order to guarantee the safety of their products.
Throughout their official website, Natural Wellbeing clearly indicates that their health supplements (including Hair Essentials for Hair Growth) include a 90-day money back guarantee.
So why 90 days, you ask? This is a common practice for other vitamin companies as well. As it turns out, 90 days (3 months) is the approximate length of time for our body to adjust and react to any possible new treatments. So, remember not to make any judgement on a product's effectiveness until around the 90 day mark.
Does Hair Essentials work for thinning hair?
The Hair Essentials vitamins are designed to provide the following 3 main benefits for people who are experiencing thinning hair or excessive hair loss:
Add thickness to existing hair strands
Stimulate new hair growth to thinning or balding spots on the scalp
Safe for both men and women
The Natural Wellbeing Hair Essentials main approach to tackle hair loss is by reducing DHT activities. Many industry experts agree that the primary reason that people (both women and men) lose hair is due to DHT, also known as Dihydrotestosterone. This hormone attacks normal hair follicles and as a result, it shrinks and blocks the derma papilla from receiving the essential nutrition it needs for proper hair growth (read more reasons for hair loss).
The company has carefully formulated its hair vitamin ingredients by using natural properties that are known to stimulate new hair growth while suppressing DHT hormones.
Hair Essentials ingredients
Here is the complete ingredients list for the Hair Essentials pills (Quick overview: 10 nutrients and 12 different hair stimulating herbs)
| INGREDIENTS | PER 1 TABLET |
| --- | --- |
| Vitamin A (100% natural beta-carotene) | 5500 IU |
| Vitamin C (calcium ascorbate) | 70 mg |
| Vitamin E (d-alpha tocopheryl succinate) | 35 IU |
| Biotin (d biotin) | 350 mcg |
| Iodine (from kelp) | 155 mcg |
| Zinc (zinc amino acid chelate) | 15 mg |
| Selenium (selenium amino acid chelate) | 75 mcg |
| Proprietary Hair Essentials Blend Containing: | 1500 mg |
| Saw Palmetto Blend | |
| Fo-ti Root | |
| MSM | |
| Bu Gu Zhi (psoralea corylifolia) | |
| Han Lian Cao (eclipta prostrate) | |
| L-Cysteine Hydrochloride | |
| L-Methionine | |
| Bamboo (bambusa vulgaris) Extract | |
| Horsetail (equisetum arvense ) Extract | |
| Borage Oil | |
| White Tea (camellia sinensis) Extract | |
| Rice Bran | |
| Milk Thistle (silybum marianum) | |
| Flaxseed Oil (source of ALA) | |
| Black Pepper (piper nigrum) Extract | |
If you want to find out how each ingredient affects hair regrowth, refer to our complete guide to hair supplement ingredients – a list of commonly used ingredients in hair vitamins and supplements).
NOTE: Their hair supplement is not recommended for pregnant or nursing women, as some of the botanical ingredients contained in Hair Essentials may interfere with female hormone levels.
Before and after photos:
Here are several before and after pictures from people who have taken Hair Essentials supplements on the company's customer review/comment section: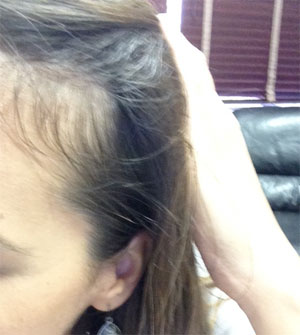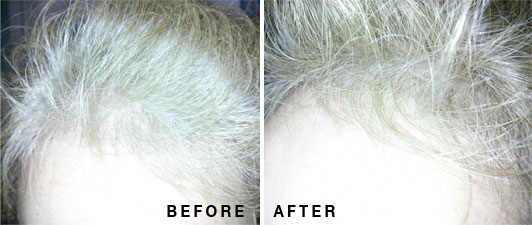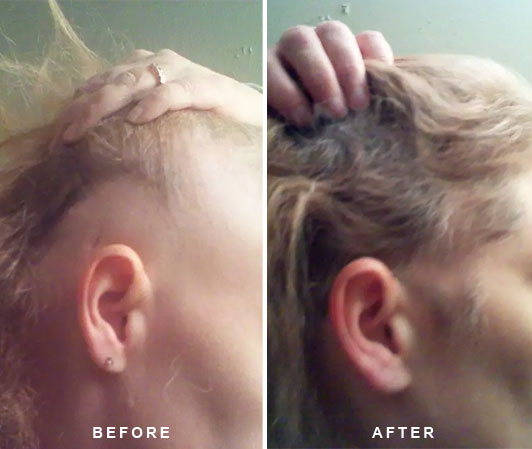 Is Hair Essentials right for your hair thinning?
Our Pick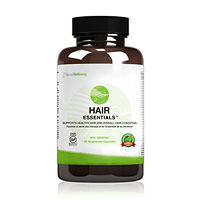 Hair Essential supplement is formulated by professional herbalists and contains various herbs to fight DHT formation and promote healthy hair growth. Many reviewers also report hair growth results taking this supplement daily.
What's special about Hair Essentials compared to any other hair supplements is the large number of herbal ingredients in the formula (12 to be exact!), all for stimulating hair growth. To make it better, the formula also includes crucial nutrients (such as Biotin and Iodine) for additional benefits to keep your hair follicles healthy and strong.
Have you tried Hair Essentials? Share your experience below.