Quick Facts
NOW is a popular supplement brand and their biotin supplement is no exception among hair loss sufferers. The extra strength version contains 10,000 mcg of biotin in each capsule. Some of the benefits include reduced hair shedding as well as faster hair growth among actual users.
Benefits
✓ Prevents hair loss
✓ Reduces hair thinning
Does NOW biotin work for stimulating hair growth?
In this review, we will briefly talk about the company, the overall quality of their supplements (which people often question), and pros and cons of Now Biotin supplements for hair loss.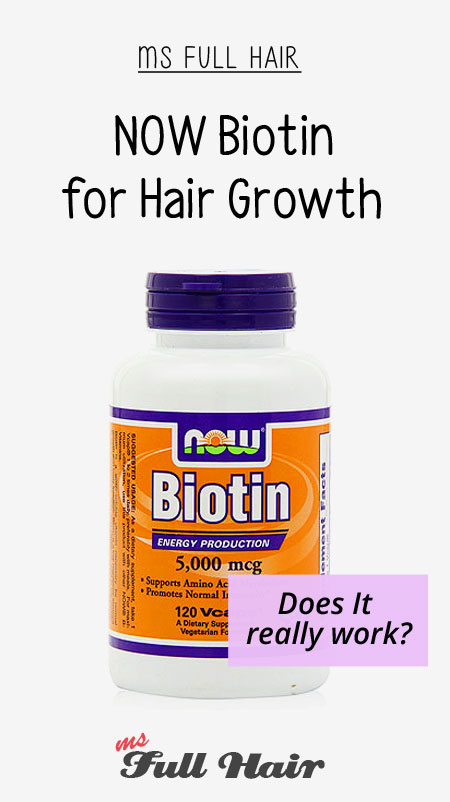 About the company – Is NOW Foods trustworthy?
First, because NOW's vitamins and supplements are cheaper than other competing brands, there are a lot of comments concerning about their possible quality issues.
Here is the good news:
NOW Foods is a family-owned business that has been around over 40 years.
The business has received numerous awards over the years from various publications (Chicago Tribune, Deliciousliving, Cleaning eating magazine, just to name a few) for providing quality supplements.
The company also follows the good manufacturing practice (GMP) to ensure the consistency and quality of their products.
NOW Foods also emphasizes the fact that company's primary goal is to provide high-quality health supplements at affordable prices.
Here, you can see a video clip about their manufacturing facility and how NOW foods controls the quality of their supplements:
How effective is the NOW biotin vitamin for hair growth?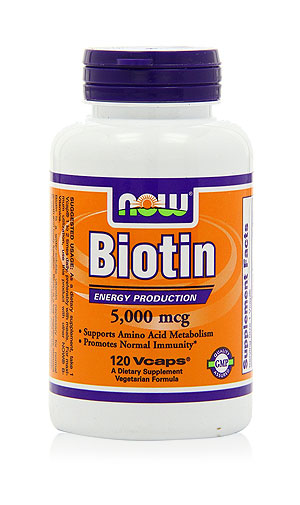 Biotin is a part of the B-complex vitamin family.
One of the main benefits of taking biotin supplements is definitely for hair. Biotin is known for promoting healthy hair growth, nourishing  follicles, preventing premature hair loss and helping with faster and stronger hair growth (Dr Oz is also a big fan of biotin for hair).
People with thinning hair often take biotin specifically for trying to prevent further hair loss and regrow the lost hair.
Reviews on NOW Biotin supplements:
We analyzed a handful of reviews from customers who purchased the product in order to improve their hair conditions (some of these conditions include general hair loss, brittle hair, thinning on top, and bald spots).
PROS
Most of those people have noticed a big difference in the strength of their hair after taking NOW Foods biotin for several months.
Also, quite a number of women reported that they shed less hair after taking the supplement for a couple months. Many also mention that this biotin really helps with faster hair and nail growth as well.
People also love the fact that NOW biotin is affordable, compared to other big brands.
CONS
Similar to any other hair supplements, there are also reviews reporting that they didn't see much noticeable changes in terms of new hair growth.
But the good news is we didn't find a review of people complaining about acne or skin breakout from taking NOW biotin for hair growth, which is one of the most common complaints for many biotin takers.
NOW Foods offers 3 different dosages for their biotin supplement lines:
All ingredients contained in each product are exactly the same.
The only difference is the amount of biotin included in each one (Here is a list of NOW biotin ingredients: Biotin, Rice Flour, Cellulose, Magnesium Stearate and Silica). All of them come in veg capsules making it easier to swallow.
Other best biotin supplement brands to consider
Other than NOW supplements, there are other well-known companies offering Biotin vitamins. These 3 are some of the most popular companies in the category:
Natrol: Natrol's maximum strength biotin is another affordable option with over 10,000+ REVIEWS on Amazon
Country Life: Country Life offers supplement called Maxi Hair (Our review here), which is their version of hair growth formula with biotin in it.
Nature's Bounty: The brand offers super potency biotin tablets
Sports Research: This brand is a new kid on the block. But their biotin, which is infused with coconut oil, is the best seller right now with 7700+ reviews.
Where to buy NOW brand supplements?
Our Pick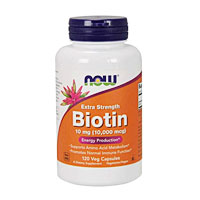 Now Biotin extra strength supplement contains 10,000 mcg in each vegan capsule. Not only the brand has been around for years, this biotin is also a great value priced just under $12 for 120 capsules.
The official website doesn't sell their supplements directly (for information only), but you can find their products at other popular sites such as Amazon, iherb or drugstore.com.
Have you tried NOW biotin or any other brands for hair growth? Share your experience below.