If you are trying to find different ways to stimulate your scalp and prevent hair loss, a scalp shampoo brush is an easy way you can use right away in your daily life. In this review, we will talk about benefits of using scalp brushes as well as our top 3 recommendations (if you are searching for hair loss shampoos, read here).
Scalp massaging brush benefits
Better than using your fingers
A scalp massaging shampoo brush (or shampoo applicator) has a lot of bristles. When you rub the applicator onto your scalp, it does much a better job at cleaning and removing any built-ups compared to using only your fingers.
Stimulates the scalp
Another benefit of using a shampoo brush is that while you are washing your hair, you can use it as a massager by gently pushing the brush on the different areas of your scalp to increase stimulation. While you can achieve this using your fingers, the scalp massaging brush makes it much easier (and less effort).
3 Best scalp brushes for stimulating hair growth
The Marvy massaging hair brush is made of 100% high quality rubber that should last you many years.  So when it touches your scalp, it feels very gentle and you don't need to worry about the brush scratching your scalp. Because it's made of rubber, it is easy to keep it clean and no need to worry about becoming moldy or developing musty odor/smell over time.
Scalpmaster hair brush is so cheap (around $3). But don't let the price full you. It still does an effective job cleaning your hair.
The bristles on the Scalpmaster brush are a bit shorter compared to other shampoo shower brushes, which makes it less flexible than the Marvy's scalp massaging brush. If you want a firm massaging feeling on your scalp when shampooing your hair, the scalpmaster brush is a perfect choice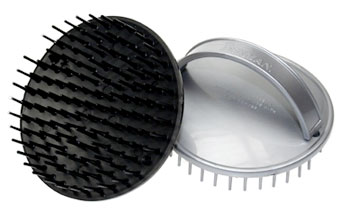 The Denman brush looks similar to the scalpmaster, but looking at it more closely reveals longer bristles.
Made in England, the brush is designed to give a gentle scalp massage in order to stimulate your hair follicles. Many users agree that the Denman brush is flexible enough to get through their hair strands to the scalp area and creates a pleasant feeling on their heads.