I remember seeing Living Proof ads featuring Jennifer Aniston fairly often, but I didn't pay much attention to them. I just assumed it was one of those celebrity-endorsed product lines with great packaging, which typically lack any usefulness whatsoever (Update: Aniston is no longer with Living Proof since Living Proof's acquisition to Unilever – the cosmetic giant).
BUT, when I came across an MSN article talking about a list of start-up companies focusing on technology breakthroughs, I noticed that Living Proof was on one of the lists. Needless to say, I was interested enough to do a little more investigation.
After checking their official website as well as numerous other sources, I realized that Living Proof isn't just another brand with typical beauty products. In fact, the company was founded by scientists with biotech backgrounds and all of their products are based on their scientific research and patented ingredients.
While Living Proof offers a number of different hair-care product lines, this review focuses on their "Full" thickening hair collection.
Living Proof "Full" collection
Living Proof Full hair products are designed to transform flat and fine hair to natural-looking fuller and thicker hair. The line includes 6 hair products:
Left to Right:
Full Shampoo
Full Conditioner
Full Root Lifting Spray
Full Thickening Mousse
Full Dry Volume Blast (the NEW addition)
Two main benefits
Before going into detail on how the company incorporated science into their products, here are 2 major benefits the brand claims you can expect from using Living Proof Full product line:
#1 

5 TIMES LONGER fullness

LP's hair-volumizing technology leaves your hair looking fuller and thicker 5 TIMES LONGER compared to traditional volumizing products in the market.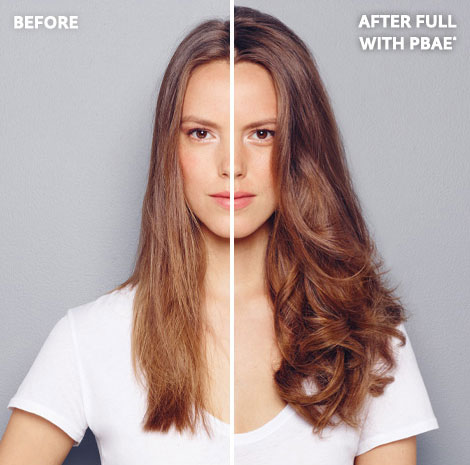 #2

  Stays full no matter what

Usually, the more you keep touching your hair, the more your hair volume decreases. Using the Full products, you don't have to worry about your hair getting flat no matter how many times you run your fingers through it. Their patented ingredients will always ensure that the increased volume lasts.
What makes Living Proof's Full product line different from other volumizing products?
Why is my hair flat?
First and most importantly, the official Living Proof website explains one major difference between people with flat hair and people with full hair… it all comes down to friction.
The reason hair gets flat and lifeless is because it doesn't have friction amongst the hair strands, which results in the strands simply lying on top of one another. On the other hand, fuller hair usually has a natural friction that keeps hair looking thicker all day long.
How does a typical volumizer work?
Most volumizing products you see in the market usually create fullness by either using harmful chemicals to do the lifting work OR by adding extra build-up to make your hair stiff.
Then, how does the Living Proof volumizer work?
For the LP research team, they focused their research on creating that natural friction found in people with naturally full and thicker hair. Their efforts led them to discover these 2 breakthrough molecule ingredients backed by science:
Breakthrough Molecule 1: PBAE
"For Making your hair thicker and fuller 5 TIMES Longer"

The first molecule is called Poly Beta Amino Ester-1 (PBAE). When these tiny thickening agents come into contact with hair, they attach to the outer layers of your hair and start creating that natural friction to make your hair look full for almost 5 TIMES LONGER.
Quick Note about Full Thickening Cream vs Mousse: The thickening cream is designed for adding thickness to each hair strand to create more volume, while the mousse is used for styling (similar to using a hair spray, but in a foam instead). Both are designed for naturally full and thick looking hair.
How to use Full Thickening Cream and Mousse: The main difference between using those two products is the amount you are suggested to use. For the Living Proof Full Thickening Cream, apply only a pea-sized amount to washed, damp hair and then blow-dry to activate. For the Full Thickening Mousse, it requires an egg-sized amount to apply over your hair.
Breakthrough Molecule 2: OFPMA
"For healthy and shiny hair recovery"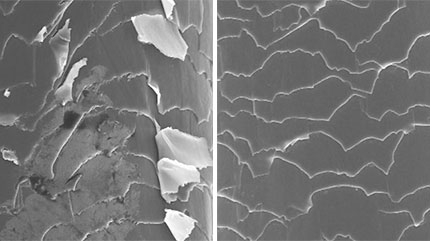 Another breakthrough molecule the MIT research team found and included in almost all of their hair products is called OFPMA (Octafluoropentyl Methacrylate).
Instead of using typical ingredients such as silicone and oils to keep hair moisturized and healthy, Living Proof uses OFPMA.
The main function of OFPMA is to keep your hair healthy and shiny by creating an invisible layer around each hair strand. This layer then helps repair damaged follicles and keeps the moisture balanced. It also acts as protection to block any environmental buildup to your hair follicles, which keeps your hair clean.
Which full products should I try first?
As briefly mentioned above, the LP Full collection comes in 6 different products. Based on the findings and my personal experience, try Full Thickening cream first.
Why? Full Thickening Cream includes PBAE, the 5X longer-lasting hair thickening agent and you will definitely feel the difference. I personally can't live without this light-weight thickening cream for my fine hair.
If you want to try little bit of each product before purchasing full-size items, try their Full transofmration kit. The kit includes their best sellers from the Full line –  the shampoo, dry volume blast, and thickening cream.
Have you tried Living Proof Full products? Share your experience below.