Quick Facts
Rene Furterer Complexe 5 Stimulating Plant Extract is a pre-shampoo scalp treatment formulated to detox and invigorate the scalp for healthy hair growth. The heating sensation upon topical application is great for increasing blood circulation in the area.
Benefits
✓ Promotes healthy hair growth
Growth Recipe?
Rene Furterer Complexe 5 Stimulating Plant Extract
The Complexe 5 Regenerating Plant Extract by Rene Furterer is a leave-in scalp treatment to strengthen the scalp and hair follicles. High-end hair clinics often carry the Rene Furterer Paris brand products as one of their offerings.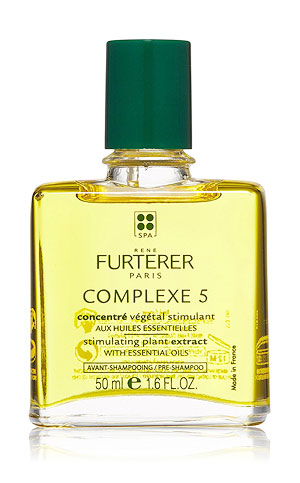 About Rene Furterer
A bit of the company background: Rene Furterer is actually a name of a French hair stylist. During his career, his main focus was to create a hair care product line based on natural ingredients. Since 1980, Rene furterer has been a part of the privately owned pharma company Pierre Fabre Lab and it continues the legacy of providing nature-based hair care solutions.
Rene Furterer Complexe 5 review
According to the official site, Complexe 5 is designed to strengthen and fortify your scalp from the roots. This liquidy serum is formulated with essential oils (orange oil and lavender oil are two active ingredients) for effective cleansing and stimulating scalp circulation.
When you apply the Complexe 5 serum on the scalp, the first thing you'll notice is a heating sensation. It's nowhere close to be dramatic, but you can definitely feel it.
The company states that this sensation is an indication that micro-circulation is properly activated in the roots of your hair. Also, the tip makes it easy to apply directly onto the scalp and the treatment oil contains strong and refreshing lemon scent.
Based on the furterer complexe 5 instructions, you are supposed to leave it in for 5 to 10 minutes. Although many people appear to leave the treatment oil for a LOT longer, 20-30 minutes to overnight (hoping the activation process lasts longer for hair follicle nourishment). Note that this treatment is a pre-shampoo stimulant and recommended for once or twice a week.
Here, we included a demon video on  how to use the product to your scalp:

Other Rene Furterer hair products for thinning hair
Here is a list of what Rene Furterer product offering for people with hair loss issue:
Rene Furterer forticea stimulating shampoo: Forticea shampoo comes in different sizes from 8.45 oz (50 ml) to 33.8 oz (1000 ml)
RF 80 concentrated serum: double-patented formula to reverse female hair loss or excessive hair fallout
TRIPHASIC regenerating treatment: triple-patented formula targeting hereditary thinning hair
Where to buy Complexe 5
Our Pick
This serum contains pure plant extracts to stimulate the scalp for healthy hair growth. It's somewhat expensive but worth every penny!
A number of e-commerce stores such as Amazon and Dermstore carry Rene Furtherer hair products including Complexe 5. Price-wise, we haven't found any discount and everywhere appears to have the same price.