Let's admit it – Not everyone is gifted with thick lustrous hair.
If you are a regular reader of Ms Full Hair, you are probably already aware of the fact that we are all about finding the best ways to transform thin hair into thicker and fuller hair.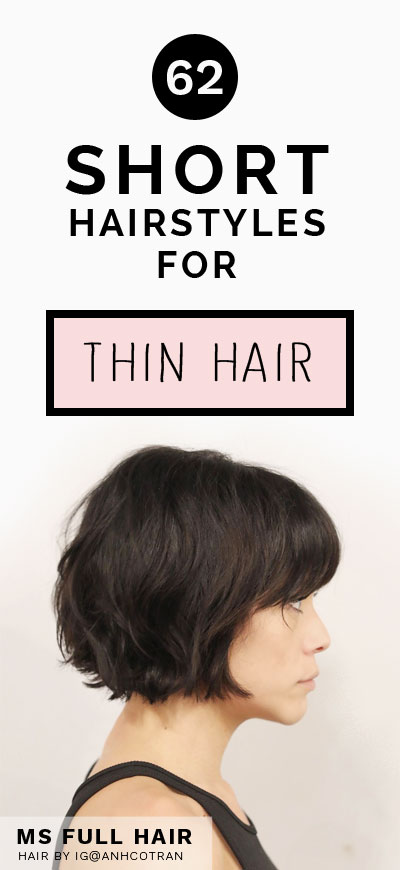 In this "Best hairstyles for thin hair" series, we will cover various hairstyles and haircuts for women to make hair look thicker.
Each post in the series will share different hairstyles and haircut tips based on length and/or age and provide satisfying answers for one of the most common concerns: "My hair is flat and lifeless."
Go straight to see photos for short hairstyles for fine hair
3 Simple rules to follow for stylish short hairstyles for thin, fine hair
If you have thin and fine hair, whether it's due to gradual thinning (aka female pattern baldness) or maybe you were just born with naturally thin strands, it boils down to the same goal: finding a hairstyle that will make your hair look thicker and fuller.
In order for women with fine, thin hair strands to achieve voluminous looks, they should consider at least one of these three elements before heading to a hair salon.
RULE 1

Natural-looking highlights to add depth and dimension

Highllights are a great way to add desperately needed depth and dimension to your hair.

We are not talking about obviously-fake highlights with too much contrast compared to your base hair color (which results in an awkward 80's look). We are talking about subtle highlights that give just enough contrast, but still blend in.

Thus, it's time to talk about the most-buzzed highlighting technique all over the internet – Balayage.

Balayage is a technique where a hair lightener is used on the surface of your hair often with an applicator brush. This creates a soft and natural-looking gradation and works whether you are brunette, blonde, or any other shades.

What differentiates Balayage to the traditional foil technique is where the highlights start.

Highlights for the foil technique start near the scalp and run all the way to the end of the hair strands, creating contrasting streaks.

Balayage on the other hand is a freehand technique, in which the color of highlights are deeper near the scalp and naturally fade out toward the end of the edge of your hair (thus it earns its nickname "sun-kissed" hair).
RULE 2

Consider a "Digital perm" to add body to your hair

We're not talking about an Instagram-style photo filter. "Digital" in this case refers to how the perm is applied.

And before you cringe from the word "perm", continue reading. This is NOT a grandma perm which makes your hair super curly.

A digital perm gives your hair soft and natural-looking waves – a much more subdued version of the traditional perm. This will add body to your hair strands while maintaining a natural beach wave look.

The digital perm is a modern perming technique which uses temperature-regulated hot rods that are connected to a machine. These rods are left on your hair for various lengths of time (usually short times for thin fine hair compared to women with thicker hairs).

The result? It creates natural looking beach waves that perfectly fit the "chic messy waves" trend.

If you are looking for quick easy hairstyles for thin hair, digital wave perm can be a great option.
RULE 3

Consider going really short

Finally, you can also consider going for very short haircuts yet remaining "stylish."

Think of a blunt bob or even a pixie cut (one of the haircuts for volume at crown). The shorter the length, the easier to add volume since your hair is so much lighter. With the help of good hair thickener, super short hairs are destined for easy maintenance and sexy looks.
Popular short hairstyles for fine hair
Now that we covered the basics for transforming thin hair to thicker looking hair, here are photos of 80 best short haircuts and hairstyles for fine thin hair (sources via Pinterest & Instagram):
THIS SERIES INCLUDES
Best haircuts & hairstyles for fine thin hair